Choose the Year and Month to display that month's featured chocolate.
Savoring each bite of bold, innovative and flavorful hand-made chocolates is without a doubt the best part of being a member of The Gourmet Chocolate of the Month Club™. Discovering chocolatiers and chocolate creations you've never tried before makes that even better. But why stop there? Each month you'll read all about the origins and histories of each featured chocolate, what kinds of time-honored or innovative processes were used to make them, what creative ingredients were used to make them and most importantly, what to look for when you taste them.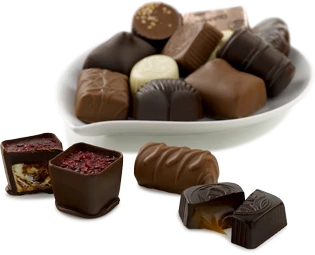 Meet The World's Best Chocolatiers And
Taste Their Works Of Art
Savor works of art from renowned chocolatiers, like Jean-François Bonnet's gourmet
barks and truffles, made with exotic fruits, spices, and fresh herbs.
DISCOVER OUR CLUB
Responsive Customer Service
Our friendly and knowledgeable customer service team will help you with any questions. You may also place orders over the phone.
Mon-Fri, 7am - 4pm Pacific
Rated Customer Service
Assuring satisfaction to over 1,000,000 CUSTOMERS since 1994 has earned us an
rating from the BBB. A BBB Accredited business since 10/05/2005
View Our Profile
100% Satisfaction Guarantee
Our 100% satisfaction guarantee ensures that every item you purchase at The Gourmet Chocolate of the Month Club meets your high standards or we will replace it or refund your purchase.