You are in for a treat this month! Brooklyn Born Chocolate's are crafted from the finest ingredients in the world by one of the top pastry chefs in N.Y., and are sure to provide a gustatory adventure. They feature single origin, organic and fair trade chocolates, exotic fruits, spices, fresh herbs and sundry flavors such as Provencal pastis, Canadian whisky, Vermont maple syrup, and Georgia peanuts.
Brooklyn Born Chocolate Pastry Chef Jean-Francois Bonnet worked with the world-renowned chef Daniel Boulud at his famed New York City restaurant. Chef Daniel Boulud says of his former Executive Pastry Chef, "Bonnet has the technique of an artisan and the creativity of an artist. He combines it with simplicity and respect for delicate flavors and textures."
Jean-Francois grew up in the coastal town of Frejus on the Côte d'Azur, often known in English as the French Riviera. It is a small Roman town between Cannes & St. Tropez. Fortunately for us he lived above a patisserie (bakery) as a little boy, and became entranced by the aroma of baking breads and pastries. Jean-Francois discovered early in life that he had a passion for patisseries. He began formal training in the south of France under Michelin two-star chef Philippe Da Silva at the Hostellerie les Gorges de Pennafort. From there he held positions in several renowned kitchens, including Hotel Le San Pedro (in Saint Raphaël), La Villa Saint Elme (in Sainte Maxime), and Jacques Chibois' La Bastide Saint-Antoine (in Grasse).
A decade ago, Jean-Francois was recruited by an American who worked with him in France, and he relocated to New York to work as pastry chef at the Monkey Bar. He later moved on to Cello's, and the Ritz-Carlton, Central Park, before accepting the executive pastry chef position at Daniel in October 2003. In 2008, he left Daniel to open his own chocolate business, Brooklyn Born Chocolate, which is based in Brooklyn. To let you know just how rooted in the States he is now, Jean-Francois is married to a Puerto-Rican American. Lucky woman; imagine waking up with a renowned chocolatier every morning!
In brief, American chocolates are sweeter. French chocolates contain richer chocolate flavor, especially when it comes to dark chocolate. However, this is more of a generalization rather than a rule, particularly with the rise of American artisan chocolatiers who often emulate their European predecessors. Dark chocolate is the most easily found in France and it is wonderful. However, some Americans are accustomed to an overly sweet variation of dark chocolate and may shy away from a more subtle French type. Traditional American-style chocolate is not just sweeter; it is lighter than European-style chocolate. The flavors are more pronounced and identifiable. French style chocolate is darker, less sweet and more subtle.
Jean Francois notes, "American chocolate is in your face. If it contains raspberry, for instance, you will smell the raspberry—strongly—well before the candy reaches your mouth. By contrast, if it's a French raspberry chocolate, you could sniff it for many minutes and have no idea it's a raspberry chocolate until you bite into it. Even then, if you're not tuned into to subtle tastes, you might miss it. I try to marry the two approaches. I would never want the sugary flavor to cover up the beauty that lies beneath a glorious piece of dark chocolate, but I would never tell an American how to eat; so I flex in an attempt to please my customers. Our flavors are geared towards the American palate but I stay true to my roots by using genuine ingredients. No matter the price of ingredients, I will never change my ways! Fortunately, there are always people who recognize and pay for quality. The pride of any chef is to go home with the satisfaction of having provided the very best quality."
Another difference between American and French chocolate is that American chocolates use a small variety of ingredients, primarily caramel, almonds, peanuts, and chocolate cream, and can begin to taste repetitious. The flavors may be bold but they're not very complex; French chocolate is just the opposite. It uses many wonderful ingredients to create all kinds of flavors in the same bar, such as fruits, nuts, spices, herbs, caramels, ganaches, and more. The dark and milk chocolate barks you're receiving this month are beautiful and delicious examples of this. One final difference is the curse of all American food; American chocolates are just too big! You are full after one or two and can't explore more flavors. French chocolates, by contrast, are more complex and each chocolate seems to be its own little masterpiece. French chocolatiers appear to put as much care and effort into one small chocolate as a French chef puts into an entire entrée. Americans often require some time to appreciate the creative essence of French chocolates.
Jean-Francois is thrilled that he can now get wonderful American chocolate to use in his confections, something that wasn't possible a decade ago. He often uses Guittard, a San Francisco based company with which club members may be familiar, since other artisan chocolatiers we have featured in the past also craft from his chocolate.
….it's not just a candy. It makes you smile. It makes you happy so it stands on its own merit as a food group," says Jean-Francois, and chocolate aficionados everywhere can identify with his sentiments! His favorite ingredients include almonds, caramel, dark chocolate, and sugars such as brown sugar and maple syrup. In the summer he favors wild blueberries, strawberries, and raspberries, and in winter he uses quince, apples, chestnuts, and sweet spices to flavor his confections.
All Tumbador chocolates are done by hand each and every step. Don't be misled by the standard caveat on the label of your bark that says "made…with equipment." The equipment correctly translates to "hands." No machines are used in the making of Tumbador chocolates. No machine spreads, cuts, crushes, or deposits any ingredient into a confection. Hands create chocolate and as Jean-Francois is fond of saying, "Chocolate creates a memory." We hope you'll create some lovely memories with the delicious chocolates you received this month.
Your box contains eight unique truffles, six pieces of chocolate toffee crisps, and two different barks: a dark cranberry pecan bark, and a milk chocolate almond apricot bark. The secret to the dark chocolate bark's deliciousness is the same that makes all Jean-Francois' dark chocolate creations superb. They're made with Guittard 72% dark chocolate—"la crème de la crème," as Jean-Francois might say. Savor the dark bark's textures—the crisp chocolate, the chewiness of the cranberries, and the crunchiness of the pecans. Sumptuous textures are another hallmark of our confectioner's work. Your toffee crisps are another example of taste-meets-texture. Crisped rice is stirred into a mouth-watering toffee base (caramelized sugar and butter) before the same high quality chocolate used in all Tumbador confections is added to the mix. The result is a very crispy, delicious—but not overly sweet—bon-bon. Your eight truffles will be a selection from among Monsieur Bonnet's fifteen signature pieces:
Honey
Caramel
Peanut Butter & Jelly
Yogurt Black Currant
Coconut
Passion
Grapefruit
Coffee cardamom
Pineapple Hazelnut Ganache
Lime Sesame
66%
55%
Green tea
Crème Cashew
Almond Praline
Brooklyn Born Chocolate's "55%" truffle is a rarity—a bon bon that's 100% American. It consists of Guittard chocolate from Hawaii with just a tiny hint of Hawaiian sea salt. "66%" is a truffle that blends a 72% dark chocolate from Ecuador with a 64% one from Venezuela. The former is deep and dark in flavor where the latter is fruity and high in acidity. They're two very different chocolates Jean-Francois blends to complement each other. Together, the bitterness is tamed and the two chocolates create a more diverse palate of flavor. The seemingly truly American Peanut Butter & Jelly piece has a European flare. The peanut butter is not sticky, but rather melts in your mouth. The jelly is not Concord grape jelly, but an exquisite mixture of raspberry and strawberry. The best reviews of Jean-Francois' truffles will be the mouth-watering raves of the tongue. So enjoy!
Before Jean-Francois settled on life as a chocolatier, he was an accomplished pastry chef, so we asked him to share with our club members some tips for making successful desserts. "That's easy," he said. "Try to surprise people by making everyday things taste different. The French have a saying: Garder les pieds sur terre. It means, 'keep your feet on the ground.' In other words, don't stray too far from the characteristics of the ingredients you use. Enhance them, don't mask them." Then he added, "I started out as a pastry chef but dark chocolate, in any form, has always been my all time favorite dessert. Tumbador Chocolate is the realization of a lifetime of chocolate dreaming!"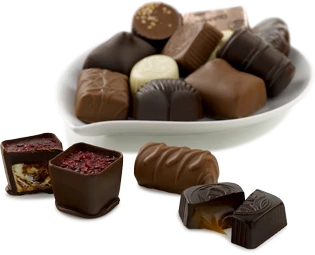 Meet The World's Best Chocolatiers And
Taste Their Works Of Art
Savor works of art from renowned chocolatiers, like Jean-François Bonnet's gourmet
barks and truffles, made with exotic fruits, spices, and fresh herbs.
DISCOVER OUR CLUB