Thank you for sharing 2010 with us at the Gourmet Chocolate of the Month Club! In 2011 we will continue to bring you many wonderful chocolates treasures, beginning with this month's collection of scrumptious chocolate treats. Now you may truly experience nirvana, defined as: an ideal state of rest, harmony, stability or joy.
If ever there were a chocolatier who lives up to its name, it's the one we've selected for you this month, Nirvana. Founded by Christophe Van Riet, Nirvana Chocolates will transport you to a place of joy in a way only true Belgian chocolates can. Chocolate is not only savored in Belgium, it is prized. For the Belgian people, chocolate is a deep passion, and the country's esteemed reputation in the world of chocolate making is a source of national pride. Undoubtedly, Belgian chocolate is some of the world's finest. Its distinct flavor is due, in large part, to the use of cocoa beans from Africa, which are stronger and more assertive than the milder South American beans favored by American chocolatiers. Belgian confisiers, or chocolate shops, are places of importance and always aesthetically beautiful. Customers are knowledgeable about chocolate and chocolate making and carefully select each piece they take home.
Christophe Van Riet, Nirvana Chocolate's founder, was determined to find chocolates in the United States on par with the chocolates of Belgium. Ultimately, he returned to the source. He felt the only way to acquire quality chocolates was to import them directly from Belgium. The delicacies you are about to taste come from a small shop that still prides itself in crafting artisanal chocolates using only the freshest ingredients. They are outstanding chocolatiers, who use traditional Belgian ingredients and methods, and take great pride in crafting their artisanal chocolates. Each morsel reflects their passion and incomparable commitment.
The chocolate shop Christophe chose for his Nirvana confections is located just outside of Bruges, Belgium—a wonderfully romantic city known for artisans that produce the highest quality products, be it medieval architecture, lace, or, indeed, the finest Belgian Chocolates. Have a look at this beautiful city on www.visit-bruges.com. This medieval city is so well preserved that several locations there are recognized by UNESCO (United Nations Educational, Scientific, and Cultural Organization) as world heritage sites.
Nirvana Chocolates are individually handmade by award-winning chocolatiers. All of their chocolates are derived from rich African cocoa beans. With the addition of cream, butter, sugar, and natural flavorings, you have the basis upon which all of Nirvana's chocolates are made. Superb taste is achieved through a skillful contrast of textures and flavors. Nirvana's delicious and beautiful couverture is made with the highest quality Callebaut chocolate from the world-famous premium-quality chocolate supplier of the same name. Add a heap of traditional artistry and a scoop of harmonious balance and you have a sinfully delicious result. So that freshness is assured, Nirvana Chocolates are always made in small batches. They are then delivered from their Bruges, Belgium, workshop to their customers' doors in days—again ensuring the ultimate in freshness. Nirvana Chocolates are a testament to the superiority of artisan chocolates over mass-produced "chocolate" products.
Why should wine tasters have all the fun? Similar to typical wine-tasting rituals, there is a chocolate-tasting methodology we chocolate aficionados can practice. The more varieties of chocolate one eats, the more one develops a sensitivity to a range of flavors and a certain degree of expertise. Just as in the evaluation of wine, it is necessary to 'grow your palate' in order to perceive the full range of flavors that true gourmet chocolate has to offer. In brief, there are three steps. First, look at the quality of the chocolate. How well was it crafted? Observe the degree of attention to fine detail. Next, check the chocolate aroma. As soon as you open the box, you should notice a quality chocolate scent. There should be no hint of any chemicals or any overwhelming sweetness to overpower the cocoa. The aroma should be rich, yet subtle and, of course, appealing. Finally, examine the proportions of the chocolate, the consistency of the color and the glossiness of the finish, which should be subtle but noticeable. The shape should be harmonious, the hues deep and reddish.
One should consume chocolate of this quality at room temperature. This ensures optimum enjoyment of the aroma, the creamy structure, the full flavor profile and the silkiness of the filling. Bite off a small piece of chocolate and let it melt slowly on your tongue. Look for a good balance between sweet and bitter. Quality chocolates should not be overly sweet. Evaluate whether or not the use of vanilla or other flavors is subtle or overpowering. As with fine wine, the finish should be pleasant and long-lasting. The aftertaste should be strong but not overpowering. Above all, the chocolate should taste fresh—certainly never stale. It should leave you with a desire for another chocolate while, simultaneously, leaving you feeling satiated so you can save the rest for another time.
We have personally selected the Nirvana Belgian Chocolate Truffles for you because they represent the highest standards of artisan chocolate making. They please the eye and the palate. This wonderful assortment contains the rich taste of premium Belgian chocolate with all-natural flavors: raspberry, soft caramel, rich Amaretto, smooth mocha, champagne, and Cointreau. Each elegant Nirvana box includes an assortment of handmade milk, dark, or ivory truffles. With eight tantalizing varieties, you are about to indulge in a bravura celebration of the senses!
Cointreau - Milk Chocolate shell filled with delicate creamy Cointreau ganache filling.
Raspberry - Dark Chocolate wraps a silky raspberry cream ganache.
Classic Praline - Hazelnut with chocolate—a very popular treat: a classic indulgence beautifully complemented by exquisite milk chocolate.
Caramel - Milk Chocolate filled with a smooth caramel ganache.
Champagne - White Chocolate filled with a luxurious champagne ganache.
Amaretto Cream - Dark Chocolate truffle dusted with cocoa and filled with amaretto cream.
Praline Chocolate - To make this treat, Nirvana must first roast and caramelize hazelnuts, and then cover the truffle mixture with varieties of pure chocolate.
Soft Mocha - Milk Chocolate filled with a soft mocha cream and covered with dark chocolate flakes.
All of these premium Belgian confections contain only the highest quality ingredients. Wholesome and delicious, they are made from the freshest milk, cream, and butter and feature the strong, true taste of the African cocoa bean. Variously flavored with pure vanilla, honey, fruits, nuts, and liqueurs, every bite of Nirvana lets you experience the best chocolates this side of heaven. Here's a short list of the ingredients they use:
Pure cocoa butter
Pure sugar
Pure vanilla
Fresh fruits and spices
Cocoa (content ranges from 50 - 72%)
Rich African Cocoa Beans
Organic milk (no chemicals)
No artificial preservatives
Brand-name liqueurs for flavoring
Pure Almond Marzipan made according to the Lubecker method
Like fine wines, chocolates should be stored in a cool, dry, and dark area. Since chocolate is highly susceptible to absorbing odors, your chocolates should be kept away from other strongly fragrant foods. Optimally, you should store chocolates at 59° to 65°F (15° to 18°C), and under 65% humidity. If you keep them in an ambient temperature below 72°F (21°C), there is no need to refrigerate your chocolates if they will be eaten within three weeks. Let's face it, these chocolates will most likely be eaten within three days! You may need to hide them if you want them to last three weeks! So what are you waiting for? Nirvana beckons!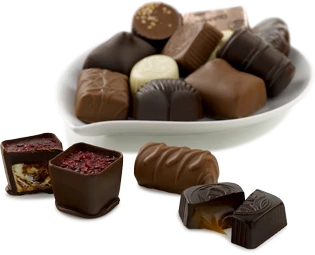 Meet The World's Best Chocolatiers And
Taste Their Works Of Art
Savor works of art from renowned chocolatiers, like Jean-François Bonnet's gourmet
barks and truffles, made with exotic fruits, spices, and fresh herbs.
DISCOVER OUR CLUB