The Gourmet Chocolate of the Month Club is proud to bring you – from our heart to yours this Valentine's Day – a line of chocolate truffles and Chicago toffees handmade for you, with love, by Chocolate Potpourri. Two generations of the Gordon family invite you to indulge in their passion for chocolate.
Marsha Gordon ("Mom") began making classic European confections in her home 30 years ago. The Gordons were a "cooking family," according to her son Richard Gordon, now president of the company. They were all passionate about food. Mrs. Gordon was the baker, and Dr. Gordon ("Dad"), a local dentist, was the cook. Quite accomplished in the kitchen, the Gordons became friends with local chefs, who encouraged their endeavors, and soon they started winning local cooking competitions. Mrs. Gordon's first creation was toffee. As she perfected her recipe, Mrs. Gordon made so much toffee that the family couldn't eat it all. Here's where Dad came in: he gave it away in tins to customers of his. Richard remembers that among his first sweet creations was the No-Cook Pecan Log from the label of the Caro Syrup bottle. He also enjoyed making caramels and taffy.
Today, Chocolate Potpourri continues the tradition—producing the rich flavors and textures of Mrs. Gordon's original recipes. Still family-owned and operated in Glenview, Illinois, Chocolate Potpourri creates chocolates with exciting new tastes that reflect current interests in intense and exotic flavors. Mrs. Gordon still works in the company running the retail store, and, in addition to maintaining his dental practice, Dr. Gordon enjoys making local deliveries. Chocolate Potpourri continues to expand into new product lines, keeping this company vital and growing. The truffles you are about to enjoy, their specialty, are featured in high-end boutiques and luxury hotels around the country.
Our selection for you this month is Chocolate Potpourri's beautiful golden double-decker box of delights. Included in the top layer of your box are sixteen handmade, fresh crème dark, milk, and white chocolate truffles with a variety of delicious fillings. You'll also find four "dunkers" (Oreo cookies dipped in chocolate). Selections may include the following favorites:
* maple walnut
* coconut
* pistachio
* grand marnier
* raspberry
* black cherry
* apricot
* dark orange
* vanilla bourbon
* espresso
* amaretto
* bavarian crème
* caramel
* champagne
* mocha
* port wine
* praline
* white almond
Note the artistry of the truffles. The velvety ganache is skillfully balanced with classic and exotic flavorings using all natural ingredients. Since these delicacies from Chocolate Potpourri are fresh crème truffles, it is recommended that they be consumed within two weeks of delivery—unlikely to be a problem for the true chocolate lovers!
The bottom layer of your golden box contains ten ounces of Chicago toffee, one of Chocolate Potpourri's signature items. This slowly cooked buttery toffee is covered with creamy milk chocolate, walnuts, and pecans, all made to melt in your mouth. This toffee recipe is the very one Mrs. Gordon perfected 30 years ago.
Though Chocolate Potpourri is still a relatively young company (and still very small, employing only 10 full-time people), it has already distinguished itself by producing award-winning products. Awards include:
- Gold Medal & Best of Show, 1985, American Culinary Federation
- Gold Medal & Best of Show, 1985, Capital Chefs Association
- Two Gold Medals, 1990, Silver Medal, 1993, International Association of Chocolatiers
- Media Choice Award, Best Truffle, Chicago Chocolate Dessert Special
- Editor's Choice, February 1995, Bon Appetit Magazine
- Retail Confectioners International:
--- Candy Making Innovation, 1996 & 1997
--- Best New Product, 1997
--- Michael Gordon, Certified Master Chocolatier, 2003
--- Richard Gordon, Certified Master Confectioner, 2003
Have you ever wondered how someone could come up with such a scrumptious concoction as the truffle? Being that the term "truffle" has actually referred to an underground mushroom-like fungi far longer than a chocolate confection, one wonders how the bridge from tasty mushroom to intoxicating chocolate delicacy occurred. Mushroom truffles have been mentioned in historical texts as far back as the Bible and have been a delight much sought after through the ages in many cultures.
With the discovery of the New World, many new foods and cooking techniques came to be. One of these was none other than chocolate, quickly becoming the rage of its day. During this same time, ground truffles were still only available to those lucky enough to find them or with the wealth to buy them. It was a very ingenious person who discovered that a ground truffle could be preserved for some time in either brandy or port, with the liquors absorbing some of the truffle aromas, essences and esters. Chocolate shells were then created, into which small quantities of this liquid were poured, and then sealed with a bit more chocolate. Suddenly the taste and aromas of both truffles and chocolate could be enjoyed together, and a new luxury for a new world came to be! These days, truffles are among the most popular of all chocolate-based treats. The many savory fillings in truffles are astounding both in number and flavor and are limited only by the imaginations of the inventive minds that create them.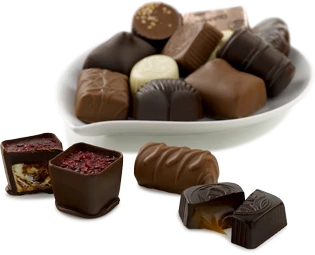 Meet The World's Best Chocolatiers And
Taste Their Works Of Art
Savor works of art from renowned chocolatiers, like Jean-François Bonnet's gourmet
barks and truffles, made with exotic fruits, spices, and fresh herbs.
DISCOVER OUR CLUB