This month we are thrilled to introduce you, our members, to our new world-class chocolatier, Jean-Marie Auboine. With more than twenty years of experience, Chef Auboine has collected countless awards on his journey to become one of the world's most sought out chocolatiers and pastry chefs, including being a finalist at Meilleurs Ouvrier de France Chocolatier 2007 and 2011, one of the Ten Best Pastry Chefs in America 2012, and Top 5 in the 2005 World Chocolate Masters, just to name a few! We know that you are going to enjoy this new chocolatier as much as we do!
Growing up in France, Jean-Marie didn't always want to be a chef, let alone a pastry chef, but discovered his passion for pastries and chocolate by accident. At first he wanted to be a veterinarian like his friend, but at the tender age of sixteen he decided to follow some friends to culinary school and fell in love with it. Starting out how most culinary students do, he began with savory dishes, then, wanting more of a challenge, moved to pastries and chocolates. According to Chef Auboine, the challenge is that pastries and chocolates require more precision; one or two grams of something, as well as one to two degrees, can change the entire look, taste, and texture of a dish – not to mention if the recipe will work or completely fail! With chocolate, the precision of a recipe is everything.
After graduating from Lycée Technique Hotelier Quercy at eighteen, he began working at Le Louis XV with world renowned chef Alain Ducasse in Monaco. During his time there he assisted in earning the restaurant three Michelin Stars, the highest Michelin honor. He continued his distinguished career at several other Michelin-starred restaurants including One Star rated Chateau de Mercués in France and Hotel Beau Rivage in Geneva, and Two Star rated restaurant and hotel La Pyramide Vienne in France.
In 2003, Chef Auboine continued on to the award-winning Presidente Intercontinental Hotel Mexico where he served as Executive Pastry Chef. In all, he was in charge of the hotel's six gourmet restaurants and twenty-two banquet rooms which served around 2,300 hotel guests. Fast forward a year later and he was promoted to Corporate Pastry Chef and given the added responsibility of Presidente Intercontinental Hotel's seven other Mexican resorts.
After leaving the Presidente Intercontinental Hotel Mexico, he moved on to become Executive Pastry Chef at the esteemed and luxurious Fontainebleau Resort in Miami Beach, Florida. Here, Chef Auboine set impeccable pastry standards for all of the resort's eleven restaurants, even earning "Best Dessert" in 2009 from the Miami New Times for his unique and delectable chocolate and pastry creations.
Also in 2009, Chef Auboine was made Executive Pastry Chef of the AAA Five Diamond rated Bellagio Hotel and Casino in Las Vegas, Nevada. Here he was in charge of the hotel's nineteen restaurants, room service, and catering. As he is fluent in English, Spanish, French, and Italian, he easily managed a team of 75 people that created approximately 15,000 delectable pastries every day!
In 2011, Chef Auboine created Chocolate Solutions LLC for consulting, classes, and R&D to create Jean-Marie Auboine Chocolatier, which is located just off the strip in Las Vegas, Nevada.
Going beyond being just your typical shop, Jean-Marie Auboine Chocolatier officially opened in February 2012 complete with a showroom, chocolate production area, and school. Completely separate from the showroom, the classrooms are divided into two zones with one zone dedicated to classes for professionals and amateurs alike, and another zone for chocolate production that focuses on "Bean to Bar" and shows the entire chocolate making process.
Jean-Marie Auboine is committed to creating and offering the best artisan confections using all-natural ingredients, and besides help from some enrobing and tempering machines, everything is handmade, natural, and created from scratch with no additives or artificial compounds. While some of the chocolate confections are from single origin beans, Chef Auboine also creates unique chocolate recipes from beans from all over the world. In fact, starting in December 2014, they are one of very few chocolatiers in the world who prepare their own crafted chocolate from cocoa sourced from all over the world, developing their own unique Fair Trade program with the cocoa producers.
This month's delectable chocolates are inspired by Thanksgiving and the flavors of the season. Our exquisite selection includes harvest inspired traditional rich flavors. We know you'll enjoy these premium chocolate with scrumptious centers. Here's what's included:
Hazelnut Crunch Praline in Milk Chocolate
Strawberry Jelly Balsamic Vinegar in Dark Chocolate
Peanut & Nougat Praline in Milk Chocolate
Jasmine Tea Ganache Raspberry Jelly in Dark Chocolate
Ceylan - Kalamansi Jelly & Earl Grey Tea Ganache in Dark Chocolate
Peanut & Macaron Gianduja Praline in Dark Chocolate
Pure Pistachio Praline in Dark Chocolate
Casey & Cocoa Nibs Praline in Dark Chocolate

Buttery Orange Caramels

Hazelnuts Caramelized in Milk Chocolate

If you want to learn more about the chocolates featured in your shipment or more about the chocolate school, visit: www.jmauboinechocolates.com.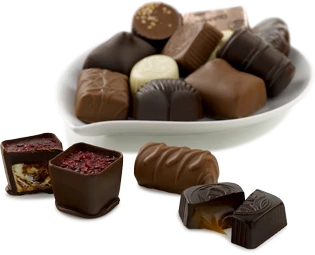 Meet The World's Best Chocolatiers And
Taste Their Works Of Art
Savor works of art from renowned chocolatiers, like Jean-François Bonnet's gourmet
barks and truffles, made with exotic fruits, spices, and fresh herbs.
DISCOVER OUR CLUB