We love when a new chocolatier comes onto our radar, but we love it even more when we can introduce them to our members. So, without further ado, let us introduce you to our newest chocolatier: Four Brothers Chocolates. Located just west of Chicago in Wheaton, Illinois, this chocolate company uses only the freshest and highest-quality ingredients possible to bring you the best chocolate. Their passion for chocolate radiates through each confection. We know that you'll love them as much as we do!
Bond salesman John Houlihan had a vision to open a confectionery shop with his family, like the ones he used to visit with his grandfather as a boy. As a self-proclaimed chocoholic, John had been obsessed with chocolate confections since a young age, and made chocolates as a hobby. His love of chocolate spilled over into his personal life, as he always found unique chocolate gifts to give his wife and children. In 2006, John, his wife Gigi, and their four sons, John O., Nathan, Edward, and David spent the holidays making 200 pounds of truffles for friends and family, and he quickly realized they were on to something. John decided to attend The French Pastry School in Chicago where he learned everything he could about chocolate, including tempering and truffle making. Quick side note: If you didn't know, Chicago is the perfect place for learning all things candy as it has billed itself as the Candy Capital of the World since the early 1900s. Back then Chicago hosted 69 candy companies and today it still hosts a large portion of the world's candy production including manufacturers and products like Mars, Tootsie Rolls, Candy Corn, and Lemonheads, to name just a few.
In 2011, John and Gigi opened Four Brothers Chocolates with John heading up the kitchen and Gigi, a milliner by trade, being in charge of all the creatives including packaging and marketing. They started with toffee and shortly after began making various truffles, for which they became famous. All four of their sons helped part-time at some point, either in the commercial kitchen making their scrumptious and fresh confections or on the business end, but even with their help, John and Gigi decided to close the business in 2014 for a variety of personal reasons, even with the business being on the rise.
The oldest brother, John O., graduated college in 2017, with a goal to reopen the family's business, and in the spring of that year, he did just that and became president of Four Brothers. He then recruited his dad as his partner and his mother to help with the creatives and marketing, making it a true family business once again. Even though the other three brothers are still in school, they remain involved in the business part-time. Currently, Four Brothers sells to local retailers and does some business online, but if all things go to plan, they would love to open their own retail storefront in the future.
The chocolates themselves are incredibly fresh. As mentioned earlier, the chocolates you received today were made exclusively for you, our members, and were made, packaged, and shipped within a week of arriving at your doorstep. Four Brothers Chocolates focuses on making all their confections in very small batches using only the freshest, most high-quality ingredients, and everything is handmade as well as hand packaged. With all of their confections, you won't find a single preservative among them, only ingredients such as fresh cream for the ganache and high-quality honey used in place of sugar.
Your shipment includes their Butter Almond Toffee and a box of their famous truffles. Here is a more detailed description of the five different truffles included as well as the Butter Almond Toffee:
Himalayan Sea Salt: Himalayan Sea Salt pieces are delicately sprinkled over each honey ganache truffle to give the perfect balance between salty and sweet. The center of this truffle is a fresh cream honey ganache, naturally sweetened with just the right amount of honey.
Habanero Sea Salt: This truffle is very similar to the Himalayan Sea Salt truffle but with some added HEAT! The sweet and salty flavors mixed with a touch of Habanero heat is the perfect combination for anyone who loves a little spice in his or her life. The center of this truffle is a fresh cream honey ganache, naturally sweetened with just the right amount of honey.
Coffee: Perfect for any coffee lover. The ganache is infused with coffee from a local coffee roaster to create the perfect coffee flavor. They then top the truffle off with a dark roasted coffee bean set on a drop of white chocolate.
Decoratif: The decoratif truffle is a pure delight to enjoy. Their traditional honey ganache center is enrobed in dark chocolate and then rolled in real chocolate sprinkles (decoratifs), making it a chocolate lover's dream.
Earl Grey Tea: Made in honor of the four brothers' Aunt Marceline, the Earl Grey tea truffle is one of their most unique flavors; infused with loose-leaf tea, the chocolate center absorbs the natural flavor to give a truly unique truffle. The truffle is enrobed in milk chocolate then rolled in shortbread crumbs.
Butter Almond Toffee: The butter almond toffee is made in small batches, covered in a rich semisweet chocolate and sprinkled with roasted almond bits. It is then hand broken and packaged. Making this toffee in small batches enables Four Brothers to pay close attention to detail throughout all steps of the process. Their toffee is a classic style toffee with a soft break, making it melt perfectly in your mouth.
Since the truffles are so fresh, Four Brothers recommends that you indulge yourself and eat the confections within a six-week timeframe for the maximum flavor. They will still be good after the six weeks, but the flavors could fade after that time. Also, make sure not to store them in a refrigerator or freezer as that too could fade the flavors. Instead, try storing them in a cool dark pantry or cupboard. We absolutely love this chocolatier and couldn't be happier that we can share their chocolates with you, our members! If you want to see what else Four Brothers are up to, visit fourbrotherschocolates.com.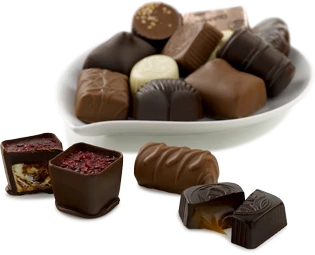 Meet The World's Best Chocolatiers And
Taste Their Works Of Art
Savor works of art from renowned chocolatiers, like Jean-François Bonnet's gourmet
barks and truffles, made with exotic fruits, spices, and fresh herbs.
DISCOVER OUR CLUB