Welcome to this month's selection! We could not be more thrilled to share with you this month's chocolates, a wonderful ballotin assortment sourced and assembled exclusively for you, our Gourmet Chocolate of the Month Club members, through our partnership with Carline Belgian Royal Chocolates.
Carlos Noppe and his wife, Cathy Lingier, founded Carline Royal Belgian Chocolates in 1980. If you pay close attention, you will see that Carline is a clever mélange of their names. Carline is located just outside of Bruges, in Roeselare, and is a longtime supplier of gourmet, artisanal chocolates to Belgium's best artisanal bakeries and shops. In 2002, their son, Kristof Noppe, and brother, Jo, began overseeing production and growth of Carline. Due to increased demand, Carline has doubled the size of their production facility. Carline today is one of Flanders' – the Flemish-speaking section of Belgium – premier chocolate and marzipan producers and continues to craft chocolates from traditional recipes and all-natural, raw ingredients.
We know you are going to be wowed when you open this ballotin. Inside you will find a flavorful plethora of chocolates made with pure Callebaut® chocolate, considered to be one of, it not the finest, Belgian chocolate. Made in Belgium for over 100 years, it's what we call a Belgian couverture chocolate, one made with a high cocoa butter content. Chocolatiers and chefs often choose to use Callebaut® because of its creaminess, consistent quality, richness, and versatility in a wide range of recipes calling for chocolate.
Carline selects its chocolate knowing that their choices significantly impact the final product. Therefore, maintaining the highest of quality standards with regard to chocolate making requires Carline to do thorough and careful research to find the best raw materials to make their chocolates. Sometimes the company does not find exactly what they need, so much of what they use is acquired and/or created to Carline's specifications. Only the finest cocoa beans, cocoa fats, and natural vanilla are used in the creation of Carline products. Carline's specially selected chocolates are "Origin" or "Single Origin," meaning that they are sourced from either a single region, perhaps even a single farm, and often from a specific year, similar to a single-vineyard, vintage wine. Such chocolates yield recognizable flavor profiles that are unique to the source or "vintage."
With regard to other ingredients, again, Carline seeks out the best of the best, such as using Turkish and Piemontese nuts, almonds from California, and walnuts from France, for example, as well as the best sources of dried fruits, fresh fruit pastes, and honey. Carline knows that chocolate lovers and enthusiasts can taste the difference, so their team is always on the hunt for superior ingredients.
The coming together of the chocolate and the filling is where the magic happens. For liquid or soft fillings, the chocolatier usually begins by using a polycarbonate mold, the advantage being that it is a perfect conductor of temperature. In other words, this type of mold will transfer heat and cold in almost ideal conditions for combining the chocolate with the various fillings. The chocolatier fills the mold with melted, tempered chocolate. When the mold is turned upside down, a tiny shell will remain on the inside. Once these shells are cooled, the chocolatier fills them with nut pastes and butter or sugar creams. The chocolatier then leaves the shell for a short while to allow the filling to settle inside of the chocolate, then seals it with more chocolate to create the final product. For harder fillings, the chocolatier will make or roll larger sections, cut them to the desired size, cover them with chocolate, and often decorate the exteriors by hand.
Carline works in unison with with specialists to guarantee their compliance and respect for Belgium's longstanding traditions, but also looks to the future, always striving to be a trendsetter in world-class chocolate making. Above all else, Carline relies on its decades-long experience as a Belgian chocolate producer to create incomparable recipes, whose chocolates and flavors are distinctly and uniquely theirs, the result being near-perfect creations of proprietary and refined pieces of Belgian chocolate art, if you will. Carline's attention to proper packaging ensures that their decadent and luxurious chocolate delicacies will travel from Belgium to your door anywhere in the world.
With this in mind, rest assured that we have selected for you Carline's crème de la crème chocolates, with something for everyone, including dark chocolate, milk chocolate, white chocolate, and truffles. You will delightfully discover flavors and fillings such as almond marzipan, amaretto butter cream, anise, caramel, coconut, hazelnut, marc de champagne, mocha butter cream, orange, praline, raspberry, rum, and strawberry.
When tasting chocolates, there are many beverage options to explore. Some say that wine should not be paired with chocolate. However, we have tasted these chocolates alongside different wines, and it is a matter of ensuring that the wine has more residual sweetness than the chocolate. Because they have a lower sugar content, dark chocolates often pair well with drier reds, such as Bordeaux-style wines like cabernet sauvignon, merlot, shiraz (syrah), or zinfandel. Milk chocolates are sweeter, thus fortified and/or dessert-style wines such as madeira, port, and sherry can be exquisite pairings. With the sweetest of chocolates, white chocolate, try dessert wines like Banyuls, cream sherry, Moscato (muscat), port, Sauternes, and sweeter styles of riesling. We suggest you experiment. What could be more fun than tasting wine and chocolate?
If you are a beer drinker, you might find a nice palate match with a creamy chocolate, coffee, or mocha stout.
If you do not drink alcohol, you are still in luck. Coffee, espresso, and even some teas are perfect accompaniments to Belgian chocolates. For example, a hazelnut coffee will pair wonderfully with a hazelnut praline. Carline's importer also suggests trying English Breakfast Tea with Carline's hazelnut heart chocolate. An Earl Grey tea's bergamot flavors will evoke a fruit-filled chocolate's sweetness, while Darjeeling, a refined black tea, will enhance the delicately creamy taste of white chocolate. The ideal pairing will emerge depending on the balance and intensity level of both the chocolate and the beverage. Again, we recommend tasting and tasting again to your heart's delight.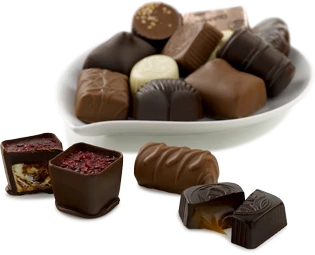 Meet The World's Best Chocolatiers And
Taste Their Works Of Art
Savor works of art from renowned chocolatiers, like Jean-François Bonnet's gourmet
barks and truffles, made with exotic fruits, spices, and fresh herbs.
DISCOVER OUR CLUB