Thanksgiving is so much more than lots of good food and overindulgence. It's a day to appreciate and celebrate the gifts the year has brought us. We at C&H Monthly Clubs are thankful for you. Whether you've been a member for some time or you are new to the club, we want to say how grateful we are and reiterate our pledge to provide excellent service. We are blessed by the opportunity to share our hand-selected, sought-after, personal-favorite products with you, your family and friends. Your satisfaction is our goal. We wish you and those who are dear to you a Happy Thanksgiving! As far as we're concerned—and as our long time members will certainly attest—there is no better example of a culinary indulgence than our Gourmet Chocolate of the Month Club. If you are a new member and have received this month's shipment as a gift, consider reciprocating by giving a gift membership to one or more of our six monthly clubs. From gourmet cheeses, boutique wines, and domestic and international microbrewed beers, to premium hand-rolled cigars and fresh-cut flowers, our clubs are a wonderful way to say you care. Thanksgiving is the beginning of the busy holiday season, so CALL US and our customer service representatives will help you design a gift to suit any taste—and pocketbook.
This month we're proud to introduce members to Torn Ranch, a manufacturer and purveyor of gourmet specialty chocolates and other specialty foods. They are nestled in Novato, California, in Marin County, between San Francisco and the Napa Valley. Using dried fruits and nuts from California's lush, fertile valleys, they handcraft some of the finest chocolates and baked goods in all of California, a state that has been on the cutting edge of fine edibles for decades now. Torn Ranch's beginnings were humble. They started as a gourmet retail store renowned for jumbo cashews. The owner, whose name really was Torn, welcomed each customer by placing a warm jumbo cashew in their hand. Eventually, the demand for his gourmet specialty products expanded so much that the Torn Ranch retail store was closed and sales expanded via the rapidly developing wholesale gourmet specialty market, beginning with cashews.
Today, under the leadership of owners Dean and Sue Morrow, Torn Ranch's gourmet specialties are known far and wide, and the Morrows are equally well known as leaders and innovators in the gourmet industry. One of their innovations was developing the process to successfully infuse chocolate with tea, specifically green tea, but that was just the beginning of their "infusion madness." Mastering that technology garnered Torn Ranch the attention of the media. They were written up in the Wall Street Journal and U.S. News & World Report, among other publications. Members of the Gourmet Chocolate of the Month Club get to experience the delicious result with November's unique assortment of chocolates. Beyond delicious, we like to think there are health benefits. Green tea and dark chocolate are commonly known to contain antioxidants. In case you need reminding, antioxidants are substances that may protect cells from the damage caused by unstable molecules known as free radicals. Damage from free radicals may lead to cancer. We are not seriously suggesting that, by replacing your apple a day with this month's dark chocolate and green tea bar, you will keep the doctor away. We are simply offering the information to assuage any tinge of guilt one may have about consuming the calories. Finally, guilt-free chocolate! To satisfy the national demand for their unique products, Torn Ranch, known for artisan chocolates, now has over 100 employees, many of them among the best chocolatiers in a region, and they maintain an unparalleled commitment to the highest standards of product quality. Torn Ranch sells only to high-end retailers, so we feel fortunate to be able to offer our members a sampling of their six chocolate biscotti wedges, a milk chocolate truffle bar, and their famous green tea and dark chocolate bar.
In this month's shipment you will find a variety of pie-slice shaped chocolate wedges, each separately wrapped and boxed for freshness. The wedges consist of pure milk or dark chocolate infused with sprinkles of Torn Ranch's crispy biscotti and fruit and/or other flavorings. Enjoy: Champagne Apricot Chocolati Biscotti – This one, made with milk chocolate, has a subtle milk chocolate scent with a detectable whiff of champagne. Take a bite and discover a wonderful combination of crunchy biscotti texture and the flavor of apricots and chocolate. What a concept! Dark Chocolate Café Chocolati Biscotti – The smell of this one transports you to a fantasy boutique—your favorite high end coffee shop combined with your favorite chocolate store. The taste of rich dark chocolate predominates. Orange Chocolati Biscotti – Sniff this milk chocolate piece, and visions of orange slices dance in your head. Taste it and enjoy the crunchy texture and the perfect balance of orange-chocolate flavors. Mint Chocolati Biscotti – One whiff of this wedge and you'll think you've died and gone to Girl Scout Mint Cookie heaven. But the inside is even better than their mint cookies—pure dark chocolate infused with cool, green mint. Raspberry Chocolati Biscotti –This wedge smells of raspberry and dark chocolate equally. They seem to compete for dominance. The taste is divine—the dark chocolate taste predominates, but the raspberry taste is a close second. Cappuccino Chocolati Biscotti – Unwrap this wedge, and the aroma of dark chocolate and dark coffee emanates. Taste it, and the taste of pure dark chocolate is dominant; the coffee taste pleasingly subtle.
The Milk Chocolate Truffle Bar is a wonderful example of Torn Ranch's innovative style. As club members may know, truffles are typically made in a spherical, conical, or curved shape. But Torn Ranch has molded the ganache center, characteristic of truffles, into a bar and wrapped it with a creamy, supple, milk chocolate coating. The result is delicious and, for your enjoyment, there is more of it than is typical of a much smaller, standard truffle! This bar would pair wonderfully with many red wines, such as De Tierra's Monterey Merlot, which our International Wine of the Month Club members are receiving this month. Given that Sonoma and Napa are in Torn Ranch's backyard, perhaps owners Dean and Sue Morrow created this bar with that in mind? Not a Wine of the Month Club member? Call us – we can fix that. Or you can enjoy the Milk Chocolate Truffle Bar with your own favorite Red Zinfandel, Merlot, or Cabernet Sauvignon.
Rich in antioxidants and acclaimed for its taste, this chocolate bar made headlines because infusing tea with chocolate had never been done. The bar's smell is unique and the mint is not overtly apparent. However, with another whiff you are sure to smell green tea. The taste is another story though: once you bite into the bar, not only are the green tea and dark chocolate flavors perceptible, notes of jasmine round out the rich and decadent experience. Pair the Green Tea Dark Chocolate Bar with an oaky Chardonnay, and your palate will be blown away!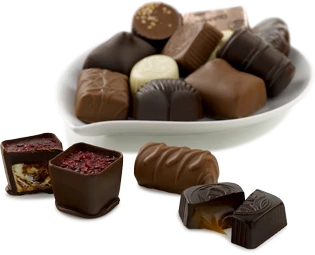 Meet The World's Best Chocolatiers And
Taste Their Works Of Art
Savor works of art from renowned chocolatiers, like Jean-François Bonnet's gourmet
barks and truffles, made with exotic fruits, spices, and fresh herbs.
DISCOVER OUR CLUB