We here at the Gourmet Chocolate of the Month Club are truly excited to bring you a new chocolatier from Charlotte, North Carolina: The Secret Chocolatier, a true family business that has been creating artisan, hand-made chocolates and confections since 2008 and opening their first retail store in 2011.
Chef Bill Dietz learned his craft at the knee of his Pennsylvanian grandfather who owned and ran a local bakery outside of Pittsburgh, PA. As a young child, he learned how to make pastries and doughnuts among other things. After high school he joined the military, and once he returned he pursued a career as a pastry chef. That pursuit carried him over thirty years from Myrtle Beach's Grand Strand and Columbia, South Carolina to the Sonoma Group in Charlotte, North Carolina, where he worked as executive pastry chef for three acclaimed restaurants and developed and perfected his love for chocolate. When his restaurant closed in 2007, he found himself at a career crossroads. He longed to work with chocolate more intensively and called a family meeting with his wife Karen, daughter Robin, and Robin's husband Andy, and together, they started creating chocolate truffles to sell at local farmer's markets. After a few years of farmer's markets and having developed a local following, the Dietz and Ciordia families knew that a storefront was inevitable. In 2011, The Secret Chocolatier opened its doors and Bill's dream had become a reality.
As the company grew, so did the talents of the family running it. Bill's wife Karen provides the charm and conversation to visitors in our shop. Her friendly disposition led her to a career in church, and now she brings her listening skills and desire to make people happy to the family enterprise. The highly-kinetic Karen also creates infusions, and hand-shapes our delicious chocolates when her husband needs her delicate touch. Following her father's footsteps, Robin found she had inherited the knack for dessert creation. She spends her time balancing her work in the kitchen with her sales and bookkeeping roles. Robin's husband Andy is the Swiss Army Knife of the company. He fits in wherever he's needed, but his strength is in marketing and business management. The youngest chocolatier is five year old Logan and is the true charmer. He can be found making limited edition chocolate bark for charity called Logan's TLC (The Littlest Chocolatier) Bark and greeting all the customers with his beautiful smile.
The Secret Chocolatier offers selections of unique chocolate confections including cakes in a jar, toffees, brownies, truffles, and bon bons, just to name a few. They also have an extensive collection of seasonal delights. For Easter you can expect to find fluffernutter filled eggs and vanilla bean buttercream filled bunnies, for Mother's Day you can try the strawberry cream cakes, or for St. Patrick's Day try the white cream cheese cake with mint buttercream and a white chocolate shamrock. No matter what the season you can always find the perfect treat.
They use fresh seasonal ingredients from regional farmers to create their unique flavors. There are no extracts or oils used. Everything is processed in a cream steeping method to bring out the peak flavors. As a rule, they have decided that the best can't be tampered with. To gain longer shelf life, temperature stability, etc., requires the introduction of a lot of science, and that pushes the natural out. It's a difference that you can sense – that you can taste – so The Secret Chocolatier rejects such artificial approaches in favor of pure, all-natural ingredients and processes. They strive to stay as close to the source of all their ingredients as possible. In the summer, try their lavender or basil truffles, or try the cherry hot chocolate in the winter. For every season, there will be something new to try and that will have any chocoholic's mouth watering for more. To learn more, visit their website at: www.thesecretchocolatier.com.
For this month, we are bringing you a selection of their classics as well as some seasonal creations. Here are the selections that you'll be enjoying this month including three truffles::
Sea Salt Chocolate Butter Toffee- 1/2 lb of rich, buttery toffee coated with a thin layer of dark chocolate and sprinkled with Cypress Sea Salt.
White Chocolate Toasted Macadamia Bark - Here you can enjoy a wonderful nut, the macadamia, which is toasted blond to bring forth a bit of its nutty nature then cracked, crushed, and wrapped in creamy white chocolate.
Dark Chocolate Toasted Almond Bark- Combining a tantalizing 60% dark chocolate with toasted almond slivers and a dash of sea salt creates a very satisfying classic chocolate bark.
What is infusion? In the words of Chef Bill Dietz: "Infusion, in it's simplest form, is the process of transferring the flavor of one product into another. The making of tea is the most common form of infusion. One of the items, usually the host substance, water in the example of tea, is brought to a boil. In my world, the question of infusing products with fresh herbs or fruit rinds, involves chocolate, which is highly sensitive to heat and never should be boiled. A host substance must be used apart from the chocolate for the infusion to work and then the infused liquid can be added to the carefully melted chocolate. Sure, I could take any extract or oil on the market today and add it to my truffle and it would still be passable, but the personal satisfaction of infusing real products into mine far surpasses any value to saving time, which is all that I would be doing. You can't get the same sense that you can get from biting into an infused truffle and thinking that your chewing on a basil leaf with an extract, no matter how good it is."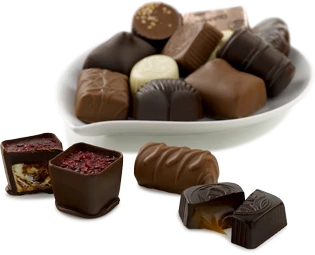 Meet The World's Best Chocolatiers And
Taste Their Works Of Art
Savor works of art from renowned chocolatiers, like Jean-François Bonnet's gourmet
barks and truffles, made with exotic fruits, spices, and fresh herbs.
DISCOVER OUR CLUB