Chocolate Club Gift Ideas
Finding the perfect chocolate gift idea for Valentine's Day, an anniversary, a birthday, or any other special occasion can be harder than you think. You can spend hours searching websites or local stores for the right chocolates for your special someone, but with a gift membership to The Gourmet Chocolate of the Month Club™, you'll find a present that defies expectations and showcases your love and appreciation month after month.
Each shipment from The Gourmet Chocolate of the Month Club features small-batch, handmade artisanal chocolates from both domestic and international chocolatiers, like Lake Champlain Chocolates, Gudrun Chocolates, and Leonidas Chocolates. These decadent chocolate creations are carefully crafted with the highest-quality natural ingredients, so you know that your favorite chocolate lover is receiving nothing but the best in each shipment.
Use our promo codes for your order to save up to $30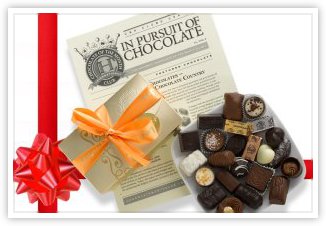 Send anywhere from 2 to 12 shipments every month, every other month, quarterly or on specific months you choose.
Design Your Own Club and combine our chocolate subscription club with any or all of our other five monthly clubs in one membership.
Make your gift more valuable with a personalized announcement.
Rest easy - we're going to make you stand out by shipping an assortment of delicious, hand-made, gourmet chocolates.
While it's always a great idea to have small-batch artisanal chocolates delivered to those you love, we suggest taking it one step further and creating a unique monthly club through our Design Your Own Club™ program! With a DYOC membership, you can pair gourmet chocolates with beautiful flower bouquets, red and white wines, craft beers, farmhouse cheeses, and premium cigars, all in one subscription club.
A Chocolate Club Gift Membership is Memorable, Affordable and Easy
You can select gift memberships from 2 to 12 shipments and send them every month, every other, quarterly, or even on specific months that you determine. Rest assured, your generosity with every delivery.
Custom gift announcements can easily be printed now or even emailed on the date you choose.
Members can fully customize their monthly chocolate club with our Design Your Own Club™ program! Our unique club combination option allows you to pair our chocolate club with our beer club, wine club, cheese club, cigar club, or our Flower of the Month Club!
No wrapping or waiting in line during the holiday rush to ship your gift.
We ship chocolates that you'll be proud to give, all while serving you with responsive, knowledgeable customer service that's maintained an A+ rating with the Better Business Bureau since 1994.
A membership to our chocolate of the month club is a great gift for any occasion, including:
Valentine's day

Chocolates on Valentine's Day are a classic gift, but you can make this year truly memorable by giving your love a pound of handmade chocolate every month throughout the year!

Mother's Day

Your Mom deserves more than a single box of boring, store-bought box of chocolates. Show her how much you care this Mother's Day and every following month with a membership to our monthly chocolate club.

Father's Day

Dad deserves more than a round of golf on Father's Day. Remind him that he's important and special with a monthly chocolate club subscription (but don't expect him to share).

Weddings

Make sure your wedding gift stands out in the pile by gifting the newlyweds with a subscription to our chocolate of the month club. Couples can also add a chocolate club membership to their wedding registry by calling us at 800-625-8238!

Anniversaries

Your wedding anniversary is one of the most important days of the year, and with a chocolate club gift, you'll show your significant other just how important they are to you all year long.

Birthdays

Birthdays only come once a year, but with a gift membership to the Gourmet Chocolate of the Month Club, your recipient can enjoy their own little celebration every month.

Christmas

Nothing beats a stocking full of chocolate, but with a subscription to our monthly chocolate club, that stocking will be refilled with new chocolates month after month.
Customer Testimonials
"It was one of the best gifts I've ever gotten, our family looks forward to each month's new arrival..."

Katy Scott, MD
"Thanks for getting the shipment to me in time for holiday relaxation and indulgence."

Donna M., MD
"She has received her 1st shipment and couldn't be happier."

Ann Weidner, IL
" You couldn't have made it easier for me. Thanks Monthly Clubs!"

Nancy M., CA
Read more testimonials
100% Satisfaction Guarantee
Our 100% satisfaction guarantee ensures that every item you purchase at The Gourmet Chocolate of the Month Club meets your high standards or we will replace it or refund your purchase.