Chocolate and Beer Pairings
Chocolate is fast becoming an item to pair with beer. A very dark beer, such as Grant's Imperial Stout, will be a winner if paired with your favorite chocolate dessert. Dixie's White Moose White Chocolate Brew is a great example of the myriad of recent innovations in the microbrew revolution. It's clearly in full swing! Many new fruit microbrews, compare to a port or a dessert wine, and will pair well with desserts…. Pyramid Apricot Ale and Belgian Lambic are two examples.
Chocolate and Liquor Pairings
And "Have some Madeira, my Dear?"… a perfectly charming selection. Liquors with a wine base that are aged in large barrels, like Cognac or Armagnac, have amber colors, the aromas of oak, leather and dried flowers. And these aromas find total expression with a chocolate of high cocoa solids.
Chocolate and Wine Club Promo Codes
If you want to create your own wine and chocolate of the month club, but would like to save a little bit on your monthly shipments, then look no further! MonthlyClubs.com proudly offers wine and chocolate of the month club discounts for all of our members. Simply visit our coupon page, find the right code for your shipment, and apply it when you create your subscription box membership using our Design Your Own Club™ program. It's that easy!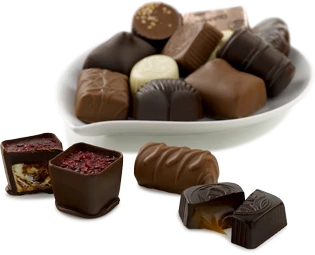 Meet The World's Best Chocolatiers And
Taste Their Works Of Art
Savor works of art from renowned chocolatiers, like Jean-François Bonnet's gourmet
barks and truffles, made with exotic fruits, spices, and fresh herbs.
DISCOVER OUR CLUB
Responsive Customer Service
Our friendly and knowledgeable customer service team will help you with any questions. You may also place orders over the phone.
Mon-Fri, 7am - 5pm Pacific
Sat-Sun, 8am - 12pm Pacific
Rated Customer Service
Assuring satisfaction to over 2,000,000 CUSTOMERS since 1994 has earned us an
rating from the BBB. A BBB Accredited business since 10/05/2005
View Our Profile
100% Satisfaction Guarantee
Our 100% satisfaction guarantee ensures that every item you purchase at The Gourmet Chocolate of the Month Club meets your high standards or we will replace it or refund your purchase.