This month we're proud to introduce members to Torn Ranch, a manufacturer and purveyor of gourmet specialty chocolates and other specialty foods. Torn Ranch is located in the Napa-Sonoma region of California, a foodie mecca known for its high level of food integrity. Torn Ranch's beginnings were humble. They started as a gourmet retail store renowned for jumbo cashews. The owner, whose name really was Torn, welcomed each customer by placing a warm jumbo cashew in their hand. Eventually, the demand for his gourmet specialty products expanded so much that the Torn Ranch retail store was closed and sales expanded via the rapidly developing wholesale gourmet specialty market.
Today, under different leadership, Torn Ranch's gourmet specialties are known far and wide as leaders and innovators in the gourmet industry. One of their innovations was developing the process to successfully infuse chocolate with tea, specifically green tea, but that was just the beginning of their "infusion madness." Mastering that technology garnered Torn Ranch the attention of the media. They were written up in the Wall Street Journal and U.S. News & World Report, among other publications. Over the years they have mastered this technique to include other infusions such as espresso and champagne, just to name a few. To satisfy the national demand for their unique products, Torn Ranch, known for artisan chocolates, now has over 100 employees, many of them among the best chocolatiers in a region, and they maintain an unparalleled commitment to the highest standards of product quality. Torn Ranch sells only to high-end retailers, so we feel fortunate to be able to offer our members a sampling of their delicious creations and some of their new products!
Torn Ranch is passionate about crafting natural and organic snacks using the best local ingredients to create layers of flavor. We're not talking about simple snacks or mass produced bars; we're talking about real food, made by real people, with a real passion for their products and the planet. Point in fact, they're making conscious sourcing decisions to use ingredients that are in the best interest of sustaining the honey bee, whose population has been in steady decline in the past few years. They not only use honey in some of their confections but they also make sure that the plants they get ingredients from will benefit the honey bee. A few examples of the foods that would no longer be available to us if bees stopped pollinating our agricultural goods are: blueberries, almonds, apples, cranberries, cherries, watermelons, cantaloupes and cucumbers. They also work with the best growers in California to bring you their worthy indulgences and healthier snacks.
As previously mentioned, all of Torn Ranch's confections are all natural, but they may also contain non-genetically modified, organic, kosher, and fair trade ingredients. In addition to gourmet chocolates, Torn Ranch makes a variety of confections including cookies, biscotti, dried fruits, caramels, gourmet nuts, and chocolate covered fruits, just to name a few! Your shipment this month includes an assortment of new chocolate bars and truffles.
Dark Chocolate Mint Bar: Signature Dark Chocolate with Natural Mint Flavor
Green Tea Dark Chocolate Bar: Dark Chocolate with Jasmine Green Tea
Milk Chocolate Truffle Bar: Milk Chocolate and Pure Vanilla
Dark Chocolate: Signature Dark Chocolate
Milk Chocolate Toffee Pieces: Panned Milk Chocolate with Toffee and Roasted Almonds
4 Piece Box Truffles: Assortment that contains 4 Artisan Truffles
Torn Ranch's delectable treats are all made to order, so the treats that you are enjoying in your shipment were made just for you! If you want to learn more about Torn Ranch, all of their snacks and confections, and their mission to help bees, visit: www.tornranch.com.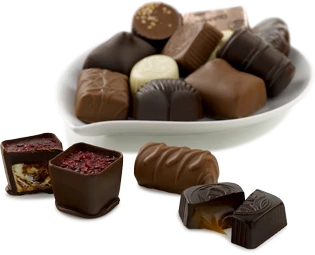 Meet The World's Best Chocolatiers And
Taste Their Works Of Art
Savor works of art from renowned chocolatiers, like Jean-François Bonnet's gourmet
barks and truffles, made with exotic fruits, spices, and fresh herbs.
DISCOVER OUR CLUB