This month we have a heavenly treat in store for you, and we mean in every way, not just the name. Say hello to Ethereal Confections based in Woodstock, Illinois. While relatively new to the business of chocolate making, as Illinois's first bean-to-bar, small-batch chocolate producer, Ethereal is making its mark not only with its delectable products, but by its business model, cacao sourcing, and attentive chocolate-making process.
Owners Sara Miller and brother and sister Michael and Mary Ervin founded Ethereal in 2011, taking a leap of faith into the unknown, driven solely by their passion for crafting authentic chocolate. The three partners started Ethereal with some of their own savings, without corporate sponsors or safety funds, then built it into a company of love. Mary and Sara drive the feminine design and flavors of the company, including the lovely packaging, which reflects Ethereal's love for their customers, community, suppliers, and staff.
The Ethereal team is committed to quality and ethics when it comes to cacao sourcing. They are keenly aware of the effect their purchasing choices have on both the cacao farmers and the environment. Therefore, Ethereal works with suppliers who are stewards of both the farmers and the land. Visiting the farms, inspecting cacao fermentation, and connecting with all involved in the supply chain of growing, harvesting, and exporting the cacao beans from start to finish are essential to both supporting the farmers and ensuring positive changes in their work life and pay, the environment, and in the countries in which the cacao is grown. Therefore, they often visit and meet with the cacao growers, currently located in the Dominican Republic, Ecuador, Guatemala, and Haiti, assuring that their partners prioritize fair working conditions and organic ingredients. For example, on a recent trip to Haiti, the team witnessed firsthand the positive changes their farming partnerships make.
Once Ethereal receives a shipment of cacao beans, the chocolate production process is comprised of careful steps to ensure a quality end product. The team opens the bags, inspects the beans for damage and pests, looks at the interior of beans to confirm proper fermentation, and manually sorts the beans. For each origin, each region, and each harvest, Ethereal has a process by which to select the ideal roast for a perfect flavor profile. Following these steps, the beans are ready to be made into chocolate through grinding, conching, and tempering.
Featured in the media by Martha Stewart, Men's Journal, and WGN Chicago, Ethereal makes from scratch all of their confections, which include solid chocolates, single-origin chocolates, inclusion bars, meltaway bars, and customized truffle and meltaway boxes. All of the products are dairy free, soy free, and gluten free. This month's selections demonstrate the breadth and depth of the company's commitment to ethical chocolate making and creating chocolates for nearly everyone, providing a truly ethereal taste experience. The ingredients themselves speak volumes. For example, the dark chocolate recipe is simple: organically farmed cacao beans, cane sugar, and cocoa butter. That's it, no preservatives, nor artificial colors and flavors. What you see, smell, and taste is what you get, and it doesn't get better than that.
Autumn Solid Chocolate is pure Ethereal signature 66% cacao dark chocolate, but molded into cute and delicious pumpkins, owls, leaves, and acorns, bringing out the child in all of us. We tasted these chocolates, allowing them to slowly melt in our mouths, and could not stop eating them. A definitively smooth chocolate experience like this deserves pairings such as a dry cider, as well as roasted almonds and dried cranberries to add texture.
Marshmallow Crunch Bark is created with the same 66% cacao dark chocolate combined with organic brown rice crisps cereal and homemade marshmallow. When we tasted this unique confection, some of us imagined the S'mores we used to enjoy when we were kids, while a few of us thought our childhood crispy rice treats would have certainly benefitted from the addition of Ethereal chocolate. Suggested pairings include whiskey, a sweeter riesling, and sheep or goat's milk cheese. When we inquired why Ethereal chose to make this unique treat, Michael explained to us, "We enjoy taking things that people find familiar and reinventing them with unexpected flavor profiles that surprise and delight!"
Pistachio Inclusion Bar is made from the aforementioned 66% dark chocolate, but combined with the crunchy pistachios, the sweet fruit flavors of dried cranberries, and flakes of fleur de sel. This mélange of creaminess, crunch, sweetness, and salinity begs for an effervescent red wine like Lambrusco, whiskey, and Gouda cheese.
Meltaway Box: This customized box contains meltaway chocolate truffles such as Vanilla Sea Salt, Blood Orange, Tahitian Vanilla Lemon, and Raspberry Vanilla, on a thin Ethereal dark chocolate shell, filled with a creamy ganache center. Oh yes, please. Just add red wines with some residual sugar, a fortified dessert wine like tawny port, Gruyère, and/or Emmentaler cheese, for a contrasting, yet complementary tasting experience.
If you should find yourself in the area of Woodstock, Illinois, Ethereal recently moved to a new location, which includes a food-forward café (which also sources locally and serves gluten-free, dairy-free, and soy-free friendly food), a speakeasy, and an event space for groups up to 100 guests. The team's broader philosophy is to reconnect people with the way life used to be. Ethereal has returned chocolate making and food enjoyment to a slower pace, when people were not always in a rush and people paused to savor food experiences. The Ethereal approach to sourcing and creating chocolates and food is the opposite of many businesses which mass source and operate at the speed of light, without taking the time to enjoy life's culinary pleasures. As Michael shared with us, "Food has a central place in our lives, and we want to bring people together through food. This philosophy drives us, and we do not cut corners. We do things because they are hard, because no one else wants to do them that way. Our methods aren't the fastest or the cheapest, but they make everything we do shine with taste and creativity."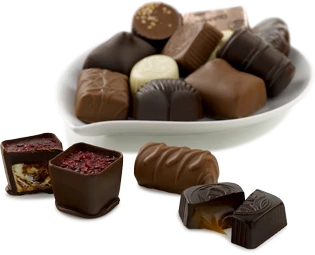 Meet The World's Best Chocolatiers And
Taste Their Works Of Art
Savor works of art from renowned chocolatiers, like Jean-François Bonnet's gourmet
barks and truffles, made with exotic fruits, spices, and fresh herbs.
DISCOVER OUR CLUB