This month we're pleased to once again introduce French Master Chocolatier, Jean-Marie Auboine. Chef Auboine has been recognized as one of the top five chocolate masters in the world and named one of the 10 best pastry chefs in North America. You're in for a rare and delightful chocolate experience when you taste Jean-Marie Auboine's hand-crafted creations. They're beautiful on the outside and exquisitely delicious on the inside.
Master Chef Jean-Marie Auboine hails from Brive La Gaillarde in southwestern France. At the tender age of 16 he discovered his passion was the culinary arts. Jean-Marie followed his muse and graduated from the prestigious Lycée Technique Hôtelier Quercy-Périgord at age 18.
After graduation he worked at Le Louis XV restaurant in Monaco with Chef Alain Ducasse, the only living chef holding 21 Michelin Stars. Jean-Marie helped earn three Michelin Stars for Le Louis XV. He followed his passion at other Michelin Star restaurants including Château de Mercuès and Hôtel La Pyramide Vienne in France and Hôtel Beau Rivage in Geneva.
In 2003 the pursuit of excellence took Chef Auboine to Latin America. He served as Executive Pastry Chef at the Presidente Intercontinental Hotel in Mexico City. He directed the hotel's six gourmet restaurants and 22 banquet rooms. One year later Chef Auboine was promoted to Corporate Pastry Chef with responsibility for seven additional luxury Mexican resorts.
The lavish Fontainebleau Resort in Miami Beach was his next stop. The Miami New Times awarded him "Best Dessert" for his delectable pastry and chocolate achievements.
It was time to move on again in 2009 – this time to the AAA Five Diamond rated Bellagio Hotel and Casino in Las Vegas. There he supervised pastry, dessert and chocolate creations for 19 gourmet and casual dining venues, along with room service and catering.
2012 brought with it a new challenge. Chef Auboine opened his own chocolate kitchen in Las Vegas and Jean-Marie Auboine Chocolatier (the company) was born. Each day he and his team of artisans delight chocolate lovers nationwide with hand-crafted gourmet chocolates and confections.
We'll now let Jean-Marie Auboine Chocolatier say a bit about who they are and what you are receiving in this month's Gourmet Chocolate of the Month Club shipment:
Jean-Marie Auboine Chocolatier is not your typical chocolate shop. Since 2012 we've dedicated our efforts toward creating hand-crafted artisan chocolates for discerning chocolate lovers in the Las Vegas area and nationwide. Our loyal devotees also include 5-star hotels, resorts, casinos and airlines.
Our proprietary recipes require the finest ingredients from the four quarters of the globe. We never use artificial ingredients or preservatives. Our beans are fair-trade and sourced from trusted growers in Africa, the Caribbean, South America and even VietNam. Many of our offerings are made from single origin beans roasted in our Las Vegas kitchen.
This month's delectable chocolates are inspired by Thanksgiving and the season of harvest. Even in the current climate of uncertainty and upheaval, we have much to be grateful for. Exceptional chocolate is just one of the small luxuries that brings a little joy into our lives.
Here's what you'll receive:
8pc Signature Assorted Chocolate Box:
PAVE LAIT – Silky and Smooth 38% single origin Milk Chocolate Ganache enrobed in Milk Chocolate
BILITYS – A classic combination of Fresh Strawberry Pate de Fruit and Aged Balsamic Vinegar Ganache enrobed in Dark Chocolate
MACCHIATO – Sweet and Creamy Mascarpone with a layer of rich Colombian coffee ganache enrobed in Milk Chocolate
JAIPUR – Tangy and floral fresh Raspberries infused with Jasmine Tea Ganache enrobed in Dark Chocolate
OUESSAN – Rich and Buttery Sea Salt Caramel Ganache enrobed in Dark Chocolate with a sprinkle of fleur de sel atop
BACIO – Silky and floral Wildflower Honey Ganache enrobed in Milk Chocolate
TRINADAD – Intense and floral Single Origin Dark Chocolate Ganache enrobed in Dark Chocolate
PROVENCE – Freshly roasted and homemade Hazelnut Praline with Crispy Wafers enrobed in Milk Chocolate

4pc Double Sea Salted Caramels:

Handcrafted, New York Times award-winning sea-salted caramel ganache layered with buttery-smooth chewy caramel stacked atop another layer of sea-salted caramel ganache and enrobed in premium dark chocolate. Finished with a pinch of Brittany Sea Salt, a perfect marriage of sweet and salty. These luscious creations are a Jean-Marie Auboine Chocolatier best-seller and are luxuriously packaged in a magnetic closure signature box.

(1) Premium Dark Chocolate Handcrafted Single Origin Small-Batch Limited Edition, Bean to Bar Collection:

Chef Jean-Marie Auboine creates his own chocolate couverture, a feat that few other chocolatiers in the world have accomplished. These Premium Dark Chocolate Bars are Exclusive and one of a kind! Single Origin cocoa beans are first selected, and then sourced, from around the world. These beans go through a 12-Step Process at JMA Chocolates' factory in Las Vegas, Nevada, including: sorting, roasting, grinding in the giant 5-ton granite rolling mélanger, conching, and molding into the chocolate bar shape. Each is small-batch, handcrafted with care, and packaged by hand; a unique and rare treat!

Tube of Panned Cranberries in Premium Milk Chocolate with Cranberry Gloss:

Just in time for the holiday season, these sweet, tart berries are bursting with flavor and contain serious health benefits. We select the finest sun-dried Cranberries and drench them in our premium milk chocolate. These delicious treats are finished in our all-natural, maroon cocoa butter-based gloss.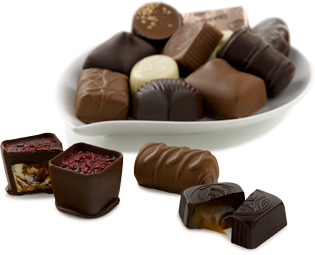 Meet The World's Best Chocolatiers And
Taste Their Works Of Art
Savor works of art from renowned chocolatiers, like Jean-François Bonnet's gourmet
barks and truffles, made with exotic fruits, spices, and fresh herbs.
DISCOVER OUR CLUB