Welcome to this month's selection from Millésime Chocolat. We could not be more excited to share with you this month's Discovery Box assortment curated exclusively for you, our Gourmet Chocolate of the Month Club members.
Chocolatier, cocoa roaster and art historian Jean-Christophe Hubert founded Millésime Chocolat in 2017. His background includes studies in chocolate confectionary, Production of Sensory Analysis of the Expertise of Chocolate and Cocoa at the CIRAD Center for Agricultural Research in Montpellier, France, and the Fine Cocoa and Chocolate Institute in New York. Millésime Chocolate is the culmination of Hubert's passion for chocolate, a bean-to-bar producer in Belgium that makes single-origin, single-vintage chocolates. Under his leadership, Millésime Chocolat is hands-on every step of the chocolate making process, from the careful selection of organically farmed raw cocoa beans to the final product, including roasting, crushing, pounding, conching, tempering, and molding.
What makes Millésime Chocolat's cocoa beans so distinctive is they carry non-modified strains of ancestral genes of the cocoa trees. The company sources their beans from environmentally friendly plantations that do not engage in aggressive farming. The plantations also have established relationships with regional cocoa bean farmers that have a zero tolerance for child labor and pay fair wages. Like the grapes for fine wines, the cocoa beans are unique to each region's annual harvests. Therefore, each chocolate release shows distinguishing characteristics specific to the country and its terrain. Harvest time and frequency vary depending on climate and geographical location. Some countries enjoy multiple harvests during a vintage year.
We have selected for you seven, award-winning dark chocolate bars from the 2019 harvest. They are beautifully packed in artistically designed and vibrantly colored and thick paper wrappers with an additional layer to protect the bar from air and moisture. The bars themselves are also tasteful works of art that reflect each country and region of origin. In four of the bars, you will delightfully discover within them flavors and fillings such as caramel salted butter, almond and hazelnut praline, hazelnuts and nougatine pistachio. Five of them are 100% vegan. All are stone ground and free from gluten, lecithin, and palm oil. In addition to the ingredients and organic certification, each of the bars' wrappers has Millésime's story, a paragraph about the region, and a flavor profile scale.
Peru Lamas 55% Caramel Salted Butter The Peru Lamas is a gold winner in the Singapore Chocolate Awards. Grown in a humid tropical forest climate ideal for producing cocoa beans, this chocolate is all at once buttery, salty, and sweet, and especially creamy and luscious on the palate.
Madagascar Sambirano 55% Praline Hazelnut The Madagascar Sambirano, which won bronze in the World International Chocolate Awards, showcases the surrounding terroir in its aromas and flavors – those of coffee, fragrant flowers and fruits, and spices – along with the confectionary almond and hazelnut praline.
Nicaragua Matagalpa 65% Nougatine Pistachio The Nicaragua Matagalpa, which also received a bronze designation in the World International Chocolate Awards, is velvety on the palate with a coffee-like bitterness. Its nougatine reveals salty pistachio and sweet spiced rum flavors with a long, dark finish.
India Kaithapara 74% The India Kaithapara, another gold award recipient in the Singapore Chocolate Awards, has only three ingredients, cocoa beans, cane sugar, and cocoa butter, but its simplicity shines because of the mountain climate's ability to produce consistently flavorful beans that retain lively acidity and fruitiness in the finished chocolate.
Panama Bocas del Toro 75% The Panama Bocas del Toro, also simply made with cocoa beans, cane sugar, and cocoa butter, grows in an archipelago area replete with humid tropical forests, excellent for cocoa bean production. The nose and palate reveal the fruity and floral influences of surrounding native plantings like banana, peach, and laurel.
Dominican Republic San Francisco de Macoris 75% Hazelnuts The Dominican Republic San Francisco de Macoris, another gold recipient in the Singapore Chocolate Competition, grows in a mountainous region under the helm of the Oko Caribe cooperative. The beans here are of exceptional quality and consistency. The flavors run the gamut from pleasantly bitter to floral to nutty, with a persistent vein of acidity.
Tanzania Kilombero Valley 90% The Tanzania Kilombero Valley, a Gold winner in the International Organic Awards, is a beautiful reflection of the village where it is made, Mbingu, which means paradise in Swahili. It is a veritable taste of heaven with its satisfyingly bitter, fruity, spicy and woody aromas and flavors.
Regarding beverage pairings, there are many. Some suggest that wine should not be paired with chocolate. However, we disagree. We have tasted these chocolates alongside different wines, and it is a matter of ensuring that the wine has more residual sweetness than the chocolate. The darkest of chocolates often pair well with ripe and rich examples of Bordeaux-style wines like Cabernet Sauvignon, Merlot, Syrah/Shiraz, and Zinfandel from warm, Mediterranean climates like California. Chocolates with buttery, caramelly, nutty, and sweet flavors pair exquisitely with aged, fortified wines such as madeira, port, and sherry. We suggest you experiment. What could be more fun than tasting wine and chocolate?
If you are a beer drinker, you will discover nice palate matches with creamy chocolate, coffee, or mocha stouts.
If you do not drink alcohol, you are still in luck. Coffee, espresso, and even some teas are perfect accompaniments to Belgian chocolates. For example, a hazelnut-flavored coffee or a hearty English Breakfast Tea will pair wonderfully with almond, hazelnut and pistachio. For salted butter caramel, try a similarly flavored coffee. The ideal pairing will emerge depending on the balance and intensity level of both the chocolate and the beverage. Again, we recommend tasting and tasting again to your heart's delight.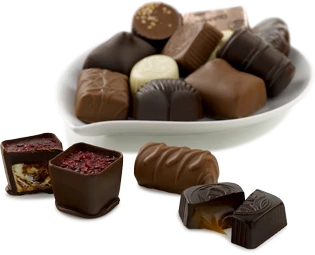 Meet The World's Best Chocolatiers And
Taste Their Works Of Art
Savor works of art from renowned chocolatiers, like Jean-François Bonnet's gourmet
barks and truffles, made with exotic fruits, spices, and fresh herbs.
DISCOVER OUR CLUB