To our existing members, we'd like to say thank you for sharing the past year with us at the
Gourmet Chocolate of the Month Club
! To our new members – welcome to the club! This year we will continue to bring you many wonderful chocolate treasures, beginning with this month's collection of scrumptious chocolate treats. Please discover and enjoy the next generation of Belgian chocolates with Gudrun, a highly renowned Belgian chocolatier that caters primarily to high end specialty stores, bakeries and restaurants.
Belgian chocolate needs no introduction. The tiny country, with a population of 10 million people (about the same as New York City), is the birthplace of some of the finest inventions in chocolate. Pralines (pronounced prah-leen in Belgium), cocoa powdered truffles and even the ballotin (a box that was specially designed to protect individual chocolate pieces) were created and perfected by Belgian chocolatiers in the 20th century and have since conquered the world. New generations of Belgian chocolatiers are honoring this tradition of constant innovation by creating new shapes, trying new tastes and launching surprising new textures. Their creations are celebrated by their peers but are often reserved for a happy few as they are made in small batches, have very short shelf lives and sold only through specialized stores.
Gudrun's ambition as a Belgian chocolatier has always been to make sure these amazing innovations would be shared with a larger audience as this was in fact how the company came to be. Gudrun was founded in 1942 by Mr. De Bruyn, a pastry chef who had set out to make his own pralines to sell in his stores. His chocolates gathered a following of their own as they were praised for their quality, their beauty and their taste. Soon enough, Father De Bruyn (as he would later be known) was courted by other pastry chefs, restaurants and even other chocolatiers to create and produce artisan chocolates that could compete with some of the more famous luxury chocolate brands. Since its founding in 1942, Gudrun has attracted new talented chocolatiers who joined to perfect their art and learn from a master. The company, however, is still family owned to this day. It has grown to become the Belgian chocolate brand of reference for true artisans wishing to bring something different from all the other big chocolate brands.
Great chocolates are made from great ingredients by great people.' This may sound like a simple phrase but it truly captures what Gudrun chocolates are about. Gudrun chocolatiers travel the world to find the best ingredients for their gourmet products. The Gudrun couverture (couverture is very high quality chocolate with extra cocoa butter used for enrobing, molding and dipping) is made from specially selected cocoa beans from Sao Tome, an island nation in West Africa renowned for the quality and aromatic taste of its cocoa beans. It gives Gudrun chocolates their perfect snap, rich taste, and distinctive long finish in the mouth. Fillings for Gudrun's chocolates are always made from scratch using all-natural, fresh ingredients. The collection you are about to discover was created around a central theme; the aim for the Gudrun chocolatiers was to demonstrate their mastery by finding the perfect balance between contrasts, whether they be contrasting tastes or textures. Each individual piece represents an interpretation of that theme: 4 Spice: Spicy white chocolate cream with a signature blend of four spices (cinnamon, nutmeg, coriander, allspice) dipped in milk chocolate. The piece was inspired by a style of Belgian cookies called 'speculoos' in which a perfect balance needs to be struck between 4 different spices for the taste to come together. Crispy Praline: A true chocolate candy made from crispy Italian hazelnut praline, sprinkled with cocoa nibs and covered in dark chocolate. The smoothness of the praline is offset by the crisp of a dentelle de Quimper. Passion Fruit Heart: Delicate dark chocolate heart filled with golden caramel and fragrant yellow passion fruit pulp. Chestnut: A pinch of pink Himalayan salt sublimates the full taste of the smooth Italian hazelnut praline and delicately balances the richness of a white chocolate shell. Arabica: A rich milk chocolate shell conceals an aromatic dark chocolate ganache infused with a signature roast of Arabica coffee. Manon: Crunchy dark chocolate base covered with a coffee infused fresh butter cream dipped in white chocolate and sprinkled with roasted hazelnut. The crispy base nicely balances the softness of the cream, while white chocolate softens the coffee taste. Komma: Rich dark chocolate filled with a fragrant vanilla ganache and a tart raspberry compote. Gudrun: Vanilla bean infused caramel covered in smooth milk chocolate. Dark Chocolate Cocoa Truffle: The secret of the rich taste lies in the fact that unlike other European truffles, Gudrun coats its truffles in dark chocolate couverture before rolling them in superior cocoa powder. This results in an exceptionally rich chocolate taste with an incredible smooth finish.
The first truffles were made from scraps left over from cutting dipped chocolates into uniform shapes. At the end of the day, the scraps would be combined, placed in a mixer, and beaten. The result was then piped out into small irregular balls, chilled, roughly coated with tempered chocolate and rolled in cocoa. They were called "truffles" because they resembled the famed truffles harvested by enterprising pigs in Périgord, France. Nowadays ganache is not a byproduct of chocolate making. It's prepared specifically for making truffles. It is allowed to set and is then whipped so it lightens. After that, the procedure is the same. The truffle centers are piped out and chilled, then coated with tempered chocolate and cocoa, confectioners' sugar, ground nuts, or praline powder. —Chocolate: From Simple Cookies to Extravagant Showstoppers
Like fine wines, chocolates should be stored in a cool, dry, and dark area. Since chocolate is highly susceptible to absorbing odors, your chocolates should be kept away from other strongly fragrant foods. Optimally, you should store chocolates at 59° to 65°F (15° to 18°C), and under 65% humidity. If you keep them in an ambient temperature below 72°F (21°C), there is no need to refrigerate your chocolates if they will be eaten within three weeks. Let's face it, these chocolates will most likely be eaten within three days! You may need to hide them if you want them to last three weeks! So what are you waiting for? Gudrun beckons!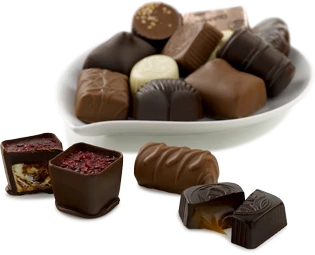 Meet The World's Best Chocolatiers And
Taste Their Works Of Art
Savor works of art from renowned chocolatiers, like Jean-François Bonnet's gourmet
barks and truffles, made with exotic fruits, spices, and fresh herbs.
DISCOVER OUR CLUB