There is nothing like the blissful moment when you eat a piece of delicious chocolate and you are transported to another world. We here at The Gourmet Chocolate of the Month Club love that feeling and we are thrilled to bring you a chocolatier that does just that: Epiphany Fine Chocolates. Based in Scottsdale, AZ, Epiphany Fine Chocolates has discovered how to get you inspired – so sit back, relax, and get ready to have an epiphany!
Started in 2010, founder and CEO Kathryn 'Kathi' Blackwell took her love for chocolate and her passion to learn, travel, and create and started Epiphany Fine Chocolates with the goal of embarking on wild adventures, exploring hidden treasures, and sharing experiences. Her goal when starting her venture was to bring the "joie de vivre" ("joy of life") into creating inspired chocolates. Kathi has said:
"Personally, chocolate is a little everyday luxury in my life. I treat myself to at least one piece of chocolate each day, and it just makes me happy. My desire is to bring this same moment of bliss to you and inspire you to explore new flavors, people, things, and experiences."
The main philosophy of Epiphany Fine Chocolates is to inspire people through their flavors and most of their flavors come from personal experiences, shared stories, and inspirations. According to Epiphany, the inspirations for their chocolate can come from anywhere and anything – fashion, nature, food and drinks, travel, and different seasons, just to name a few.
Each of Epiphany's chocolates are unique with amazingly blissful flavor combinations. Each piece is a handmade masterpiece with a soft fudge or caramel core that is then wrapped in silky chocolate. Each piece is not only meant to inspire you, it also has a sense of humor with each name.
Cocoa Chanel: Smooth milk chocolate fudge that is draped with milk chocolate and crushed pecans.
Grande Diva: Rich dark chocolate fudge covered with crushed pecans and draped in dark chocolate.
La Vida Mocha: Chocolate fudge mixed with Mexican coffee beans and delicious shortbread cookie pieces blanketed with a satiny-smooth milk chocolate exterior.
Sweet P: Sweet butter pecan truffle fudge that is cloaked with white chocolate and all topped off with alluring pecans.
John Lemon: Airy lemon crème center blanketed with creamy milk chocolate and shortbread pieces.
Berry White: Mixed berry fudge with sweet, yet tart berries, topped with creamy white chocolate.
Sweet Carolime: Succulent key lime fudge dipped in white chocolate and garnished with fresh coconut.
The Starlet: Rich milk chocolate and sea salt on the outside with gooey caramel in the middle.
Yum & Yang: Harmonious blend of sweet vanilla toffee and pure milk chocolate.
Lady Smith: A blissful combination of gooey caramel, tart apple, and fresh peanuts all wrapped in milk chocolate.
Forever Young: Creamy peanut butter and chewy caramel that is enrobed with gooey milk chocolate, and salty pretzels.
Holly Woods: Dripping with rich milk chocolate and adorned with luxurious cashews with an indulgent core of salted caramel.
Each shipment comes with a keepsake box so once you're done with your chocolate, you have the 'cigar-style' box to keep all your inspirations, stories, and experiences in one place! To learn more about their inspirations, visit www.epiphanychocolates.com or check out their Facebook page at www.facebook.com/EpiphanyChocolates.
Relativity new to the candy scene, fudge has only been around for just over a hundred years – well, we think. Nobody really knows exactly when the first batch of fudge was made, let alone who made it. The most popular legend is that two children were attempting to make a batch of caramels and once ruined, Grandma came running to the rescue, and fudge was born. Great story but with hundreds of similar cooking accident stories out there, we will never know. With that being said, every source will agree that fudge is the result of an accident – probably from a botched attempt at caramels.
The first real mention of fudge is in a place that you might not expect, the Vassar College archives in Poughkeepsie, New York. Deep in the archives, there is a small folder with one single letter dated December 11, 1921 from Emelyn Hartridge (class of 1892) inviting her history professor to visit so they could make "caramels". She wrote: "Fudge, as I first knew it, was first made in Baltimore by a cousin of a schoolmate, Nannie Hagner... I secured the recipe and in my first year at Vassar, I made it there - and in 1888 I made 30 pounds for the Senior Auction, its real introduction to the college, I think." After Emelyn introduced the candy to her classmates in 1888, it quickly spread throughout Vassar as well as to other colleges, such as Wellesley, Smith, Bryn Mawr, and Radcliffe. Within a few short years, variations of the new and very popular candy were starting to take shape as the girls were making the candy within their dorm rooms and turning accidents into fudge recipes we know and love today. Over the next several years, variations spread slowly west and even started appearing in cookbooks in the early 20th Century.
As recipes for the candy starting making their way around the United States, it was more often than not called fudge. But why is it called fudge? As we know that it was most likely created by an accident in the kitchen in the mid-19th century, the word 'fudge' seems quite appropriate. According to the dictionaries in the 19th century, fudge is listed as 'nonsense', 'humbug', 'bungling', and 'rubbish'. Even today's dictionaries list fudge as: 'to devise as a substitute' and 'foolish nonsense'. Think about the phrase – "Oh, fudge!" – odds are there was mistake made or something got ruined.
Today, hundreds of variations and flavors are in existence when it comes to fudge: vanilla, chocolate, rum, lemon, marble, hazelnut, and the list goes on. For once, we are more than happy to indulge in what started as a culinary failure.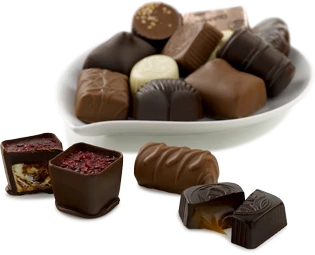 Meet The World's Best Chocolatiers And
Taste Their Works Of Art
Savor works of art from renowned chocolatiers, like Jean-François Bonnet's gourmet
barks and truffles, made with exotic fruits, spices, and fresh herbs.
DISCOVER OUR CLUB