Well over a decade ago, chocolatier Philip Fincher was an attorney pursuing yet more education—a Masters in Law in Estate Planning, a program that accepted a limited number of candidates. That took him from his hometown of Fayetteville, Arkansas, to Miami, Florida. Upon completing his advanced degree, he returned to his hometown to start his own law firm. He and his wife, Stephanie, had every intention of raising their four children there. But he had fallen in love with Florida, so when recruited for a job opportunity that was the perfect fit for his law expertise, he moved his family to the beautiful town of Naples in the Sunshine State. He loved his family first and foremost, and now he was also in a locale he loved, but another love lay dormant—his affinity for chocolate and pastry. As luck would have it, Philip found himself at a crossroads with an unusual opportunity to attend a pastry school owned and operated by Ewald Notter, a World Champion Pastry Chef known for his 15 gold medals in international pastry competitions and his unique teaching style. Philip seized the moment. After enrolling in Notter's intensive program in Orlando, his love, fascination and passion for this new world of chocolate and pastries ignited even more. He graduated at the top of his class and returned to Naples where he landed a job in the pastry kitchen of the 5-Star and 5-Diamond Ritz Carlton Beach Resort. Shortly after his tenure at the Ritz, a rare opportunity to acquire the assets of a local chocolate shop presented itself. The fit was perfect since of all the confections Philip loved creating, chocolate was at the top of his list. And so was born Royal Palm Chocolates, first opening for business in the fall of 2009. Their molded chocolates start with the finest semi-sweet Belgian chocolate. Each is crafted with a silky blend of chocolate and cream infused with flavor called ganache ("guh-nahsh"). Royal Palm Chocolates offers confections sure to delight the chocolate lover in all of us. From chocolate-enrobed pretzels and marshmallows to a variety of milk and dark chocolate candy bars and bark, each is handcrafted and irresistibly delicious. Seasonal items include roasted hazelnuts, almonds, and pecans, plus ginger and orange peel drenched with luscious chocolate. With twenty-three mouth-watering and decadent flavors to choose from, there has been great demand for Philip's artisan Belgian chocolates. His selections include traditional flavors like raspberry, strawberry, and cherry as well as the more exotic passion-fruit and cayenne pepper. All are made from fresh ingredients with no added preservatives. Each tempting flavor is presented with impressive elegance that looks almost too good to eat. But indulge yourself!
You have been graced this month with extraordinary treats. Your shipment includes a two-layered gift box. The top layer holds 16 chocolates from among the following 23 flavors. Look for the "flavor map" in your box. Each and every one of the chocolates will have a name underneath: 70% Dark Apricot Banana Cayenne Cherry Coconut Pineapple Dark Ganache Grand Marnier Green Tea Hazelnut Honey Cinnamon Java Key Lime Lavender Lime Malibu Rum Mojito Passion Fruit Pistachio Plum Cognac Pomango (Pomegranate-Mango) Port Wine Raspberry Strawberry The second layer of your box contains two distinct and delicious barks: First, Rocky Road. It's an upscale twist to a traditional favorite with premium semi-sweet Belgian dark chocolate, jumbo-sized Virginia roasted peanuts, soft mini-marshmallows, and a touch of sea salt, topped with white chocolate curls. It's the perfect combination of both sweet and salty! Second, there's Macadamia-Coconut, a tropical island lover's delight! Creamy Belgian milk chocolate is blended with crunchy, toasted macadamia nuts, sea salt, grated coconut, and drizzled with premium white chocolate. It is a true taste of paradise, Hawaiian-style.
With upscale resorts, country clubs and specialty shops serving these fine chocolates, Philip stays focused and busy on perfecting the high gourmet standards he sets for himself. His talent and expertise in the chocolate world is a hidden treasure in Naples being quickly discovered by many. Who says change isn't sweet? Once again we have the distinct pleasure of featuring one of the best chocolatiers in the world! His distinctive chocolate creations are as extraordinary as his story. And we'll wager Gourmet Chocolate of the Month Club members will agree that the world needs more chocolatiers and fewer lawyers!
Belgian chocolate is considered to be the gourmet standard by which all other chocolate confections are measured. Even the Swiss, known for their own high quality chocolate, imported the basic recipe from Belgian chocolatiers. Each of these tasty treats is made with fresh ingredients and no preservatives. This means they may have a relatively short shelf life—about six weeks. So, for best quality, you have approximately four weeks from the time they arrive to eat them. That is your mission, should you choose to accept it. And how many chocolate lovers aren't up to the task? If, however, you plan to keep them over a month, store your chocolates in a cool, dry, dark area—away from odors since chocolate tends to absorb them. They can be stored unrefrigerated for up to three weeks as long as they are in a cool, dry area. Somehow, though, we have a feeling that storage is not going to be an issue for most club members. That's why they call us "chocoholics," right? Savor each and every one of them in your own time.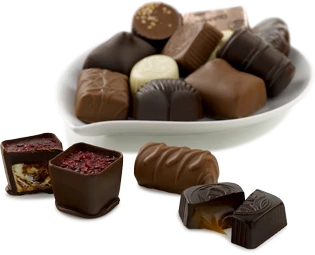 Meet The World's Best Chocolatiers And
Taste Their Works Of Art
Savor works of art from renowned chocolatiers, like Jean-François Bonnet's gourmet
barks and truffles, made with exotic fruits, spices, and fresh herbs.
DISCOVER OUR CLUB