Featured Chocolates - November 2014
Country:

United States

Notable Ingredients:

Green tea, apricots, dark roasted coffee, oranges, peppermint, and raspberries.
Torn Ranch, nestled between San Francisco and the Napa Valley, is a manufacturer and purveyor of gourmet specialty foods. They handcraft the finest chocolates and baked goods, and use the famous dried fruits and nuts from California's lush, fertile valleys. Their kitchens even host the nut roastery and bakery, where their products are packed fresh to order. Their artisans produce exquisite truffles, uniquely infused chocolates, and other chocolate goods on the premises. The center piece of your shipment this month will include a wheel that contains scrumptious wedges of flavored chocolate filled with sprinkles of crispy biscotti. Flavors in the wheel's six wedges are Cappuccino Chocolate, Champagne Apricot Chocolate, Dark Chocolate Café, Mint Chocolate, Orange Chocolate and Raspberry Chocolate. Rounding out your gourmet package are two carefully selected chocolate bars of Milk Chocolate Truffle and Green Tea Dark Chocolate.
Read More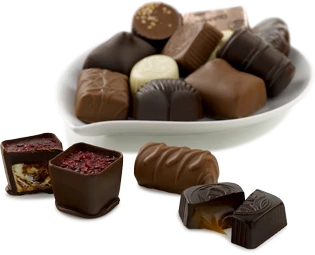 Meet The World's Best Chocolatiers And
Taste Their Works Of Art
Savor works of art from renowned chocolatiers, like Jean-François Bonnet's gourmet
barks and truffles, made with exotic fruits, spices, and fresh herbs.
DISCOVER OUR CLUB
Responsive Customer Service
Our friendly and knowledgeable customer service team will help you with any questions. You may also place orders over the phone.
Mon-Fri, 7am - 4pm Pacific
Rated Customer Service
Assuring satisfaction to over 1,000,000 CUSTOMERS since 1994 has earned us an
rating from the BBB. A BBB Accredited business since 10/05/2005
View Our Profile
100% Satisfaction Guarantee
Our 100% satisfaction guarantee ensures that every item you purchase at The Gourmet Chocolate of the Month Club meets your high standards or we will replace it or refund your purchase.