Featured Chocolates - July 2013
Country:

United States

Notable Ingredients:

Apricot, banana, cayenne, cherry, coconut, pineapple, Grand Marnier, green tea, hazelnut, honey, cinnamon, coffee, lime, rum, passion fruit, pistachio, cognac, pomegranate, mango, port wine, sea salt, macadamia nuts.
Royal Palm's molded chocolates start with the finest semi-sweet Belgian Chocolate. Each one is crafted with a silky blend of chocolate and cream infused with flavor, called ganache. Royal Palm Chocolates offers confections sure to delight the chocolate lover in all of us! With twenty-three mouth-watering and decadent flavors to choose from, there has been great demand for Philip Fincher's artisan Belgian chocolates. His selections include traditional flavors like raspberry, strawberry, and cherry as well as the more exotic passion-fruit and cayenne pepper. All are made with fresh ingredients and no added preservatives. Each tempting flavor is presented with impressive elegance and looks almost too good to eat. But indulge yourself!
Read More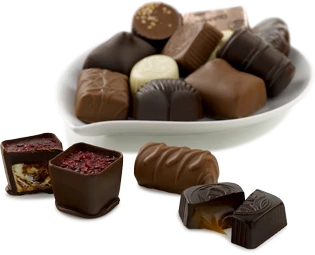 Meet The World's Best Chocolatiers And
Taste Their Works Of Art
Savor works of art from renowned chocolatiers, like Jean-François Bonnet's gourmet
barks and truffles, made with exotic fruits, spices, and fresh herbs.
DISCOVER OUR CLUB
Responsive Customer Service
Our friendly and knowledgeable customer service team will help you with any questions. You may also place orders over the phone.
Mon-Fri, 7am - 5pm Pacific
Sat-Sun, 8am - 12pm Pacific
Rated Customer Service
Assuring satisfaction to over 2,000,000 CUSTOMERS since 1994 has earned us an
rating from the BBB. A BBB Accredited business since 10/05/2005
View Our Profile
100% Satisfaction Guarantee
Our 100% satisfaction guarantee ensures that every item you purchase at The Gourmet Chocolate of the Month Club meets your high standards or we will replace it or refund your purchase.