Featured Chocolates - January 2012
Country:

Belgium

Notable Ingredients:

Sao Tome cacao, cinnamon, nutmeg, coriander, allspice, crispy Italian hazelnut praline, passion fruit pulp, pink Himalayan salt, Arabica coffee, roasted hazelnut, tart raspberry compote, and vanilla bean infused caramel.
Each individual piece in our selected Gudrun collection was created around a central theme: the perfect balance between contrasts, whether they be contrasting tastes or textures. Each individual piece represents an interpretation of that theme. Gudrun chocolatiers travel the world to find the best ingredients for their gourmet products. The Gudrun couverture (couverture is very high quality chocolate with extra cocoa butter used for enrobing, molding and dipping) is made from specially selected cocoa beans from Sao Tome, an island nation in West Africa renowned for the quality and aromatic taste of its cocoa beans. It gives Gudrun chocolates their perfect snap, rich taste, and distinctive long finish in the mouth. Fillings for Gudrun's chocolates are always made from scratch using all-natural, fresh ingredients.
Read More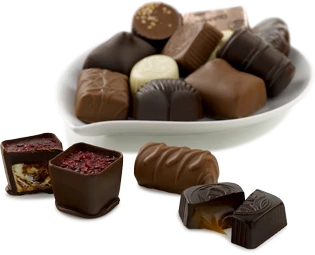 Meet The World's Best Chocolatiers And
Taste Their Works Of Art
Savor works of art from renowned chocolatiers, like Jean-François Bonnet's gourmet
barks and truffles, made with exotic fruits, spices, and fresh herbs.
DISCOVER OUR CLUB
Responsive Customer Service
Our friendly and knowledgeable customer service team will help you with any questions. You may also place orders over the phone.
Mon-Fri, 7am - 5pm Pacific
Sat-Sun, 8am - 12pm Pacific
Rated Customer Service
Assuring satisfaction to over 2,000,000 CUSTOMERS since 1994 has earned us an
rating from the BBB. A BBB Accredited business since 10/05/2005
View Our Profile
100% Satisfaction Guarantee
Our 100% satisfaction guarantee ensures that every item you purchase at The Gourmet Chocolate of the Month Club meets your high standards or we will replace it or refund your purchase.