Featured Chocolates - February 2012
Country:

United States

Notable Ingredients:

Maple syrup, walnuts, coconut, pistachio, grand marnier, raspberries, black cherries, apricots, espresso beans, amaretto, port wine, & white almonds.
Starting 26 years ago in her basement, Marsha Gordon - who still works in the business - began making European-style truffles and Chicago toffee. Included on the top layer of your box are sixteen handmade, fresh cream, dark, milk and white chocolate truffles with a variety of delicious fillings and four "dunkers". The truffles are each beautifully and artistically made and include favorites like grand marnier, raspberry and irish creme but also specialties like amaretto, black cherry, pistachio, green tea, creme de menthe and more. Each one is a particular delight. The bottom layer is 10 oz. of Chicago toffee... one of Chocolate Potpourri's signature items. This slowly cooked buttery toffee, covered with creamy milk chocolate, walnuts and pecans magically melts in your mouth!
Read More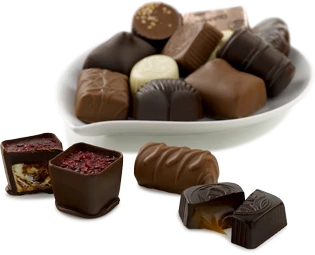 Meet The World's Best Chocolatiers And
Taste Their Works Of Art
Savor works of art from renowned chocolatiers, like Jean-François Bonnet's gourmet
barks and truffles, made with exotic fruits, spices, and fresh herbs.
DISCOVER OUR CLUB
Responsive Customer Service
Our friendly and knowledgeable customer service team will help you with any questions. You may also place orders over the phone.
Mon-Fri, 7am - 4pm Pacific
Rated Customer Service
Assuring satisfaction to over 1,000,000 CUSTOMERS since 1994 has earned us an
rating from the BBB. A BBB Accredited business since 10/05/2005
View Our Profile
100% Satisfaction Guarantee
Our 100% satisfaction guarantee ensures that every item you purchase at The Gourmet Chocolate of the Month Club meets your high standards or we will replace it or refund your purchase.