| | Current Gourmet Chocolate of the Month Club Promo Codes | Code |
| --- | --- | --- |
| | Save $5 on any term membership with promo code: | CHOC$5 |
| | Save $15 on 6-month prepaid orders with promo code: | CHOC$15 |
| | Save $30 on 12-month prepaid orders with promo code: | CHOC$30 |
These promo codes are only available for a limited time, but The Gourmet Chocolate of the Month Club is always creating new offers for our customers. Be sure to sign up for our newsletter to receive the newest promo codes right when they become available!
Why Choose The Gourmet Chocolate of the Month Club?
From the ingredients to the presentation and flavor profile, true chocolate lovers know the difference between a mass produced box of chocolates and hand-crafted artisanal chocolates created by expert chocolatiers. At The Gourmet Chocolate of the Month Club, we know that great ingredients make great chocolate, which is why we only work with small batch producers dedicated to quality, creativity and fresh wholesome ingredients. We also look for pioneers and innovators who incorporate unique ingredients such as sea salt, wasabi, caramelized ginger, and pear black tea into their creations.
We encourage you to learn more about our artisanal chocolate selection process and discover how we bring the world's finest chocolates directly to your door.!
I Want to Become a Member! How do I Use My Promotional Code?
Promotional codes for The Gourmet Chocolate of the Month Club are easy to use! After adding your subscription box membership to your cart, you can enter any of the promo codes displayed on this page in the Promotion Code Box. Then, simply check out, and you're done! Please remember that only one promotional code can be used per purchase.
For more information on our promotional codes, or for assistance with entering the codes, give us a call at 1-800-625-8238, or message us during our normal business hours (Monday-Friday from 9-5 Pacific) using LiveChat!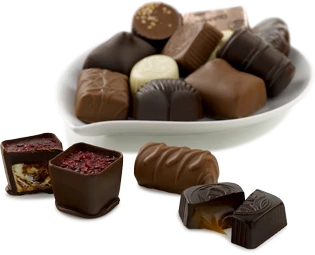 Meet The World's Best Chocolatiers And
Taste Their Works Of Art
Savor works of art from renowned chocolatiers, like Jean-François Bonnet's gourmet
barks and truffles, made with exotic fruits, spices, and fresh herbs.
DISCOVER OUR CLUB
Responsive Customer Service
Our friendly and knowledgeable customer service team will help you with any questions. You may also place orders over the phone.
Mon-Fri, 7am - 4pm Pacific
Rated Customer Service
Assuring satisfaction to over 1,000,000 CUSTOMERS since 1994 has earned us an
rating from the BBB. A BBB Accredited business since 10/05/2005
View Our Profile
100% Satisfaction Guarantee
Our 100% satisfaction guarantee ensures that every item you purchase at The Gourmet Chocolate of the Month Club meets your high standards or we will replace it or refund your purchase.