Tips For The Groom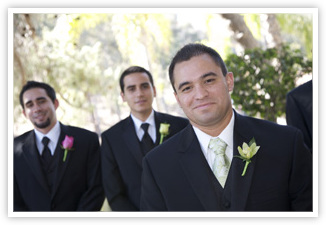 You've probably noticed by now that most wedding services are focused on the Bride. In fact, there's an almost overwhelming amount of information dedicated to the Bride, so much that it has become confusing for both Bride and Groom! Out of respect for the Groom, we have created some resources that should offer assistance. We've assembled a brief checklist below, as well as some Words of Wisdom From other Grooms—no doubt learned the hard way!
Choosing your Best Man-an important decision to say the least! A Best Man who has great organizational skills is preferable, but dedication and responsibility are the most crucial. Your Best Man will be assisting you and your Bride in a number of ways, some of which are outlined below:
• Ensuring that everyone knows the location of the church, and how to get there.
• Managing the Groomsmen, their various responsibilities, and their lodging.
• Organizing your very elegant, demure bachelor party.
• Tackling the roles of toastmaster, chauffeur and of course, friend & advisor.
• Picking up the boutonnieres and performing other miscellaneous but important errands.
• Assisting you with the rehearsal dinner, from planning to preparing the toast to the Bride and Groom.
• Ensuring that you and your Groomsmen look great in those tuxes.
• Assisting with your travel and honeymoon preparations.
• Delivering payment to the photographer, chauffeur, band & caterer, as well as your priest, minister, rabbi, or other officiator.
• Helping you find the perfect gift for your Bride on behalf of your Groomsmen.
• Keeping that marriage license in a safe and secure location until the day of the wedding.
• And of course, perhaps the most important detail of all—handing you your wedding rings at the right time
Make your boutonniere selection early. Many Grooms don't realize this, but it is usually their responsibility to purchase the Bridal Bouquet, and most pay for all the floral arrangements too.
Consider having your wedding bands engraved. This is a special touch that requires a good deal of thought. Here are some ideas: Autre ne veux [I think of none other], Semper fidelis [Always faithful], Semper amemus [Our love is forever] Our Love is Eternal, Forever in Love. Also consider any special phrases that already carry special meaning for you and your Bride.
Take the lead on managing your honeymoon arrangements. You'll want to be sure to get an early start on applications for passports and visas if necessary. And don't forget your blood tests (when required), as well as and the marriage license! Your Bride has enough on her plate already!
Select your formalwear merchant. Set up a consultation so that you can choose the colors and style of your formalwear. Although Brides will often insist on keeping their wedding gown a surprise to you (bad luck, you know), it usually doesn't work the other way around! In most cases, you will want to have your fiancée with you before signing off on the extra wide-lapelled, 70's style, sky-blue tuxes—no matter how cool you and your Groomsmen may think they look.
Don't forget to order that combination membership to two or more gourmet clubs that you and your Bride can enjoy together! This is a simple but thoughtful idea that will allow you to easily plan a romantic date to celebrate your new marriage each month! Many of our members have told us that they chose to include a hand-written copy of their toast to the Bride. Others offered that they have composed a romantic poem to go with their first month's shipment, making it an undeniably memorable experience. Whichever way you personally decide to usher in your first date as man and wife, your Bride is bound to be pleased with the consideration you've put in to this special gift that you can experience and enjoy together!
Plan the particulars of your first evening as man and wife. This is probably going to be the first opportunity you'll have to be alone together—consider surprising her with flowers and Champagne or wine in the hotel suite [Hey—she had to give away her bridal bouquet!]. Once again, your Best Man can be your aide here, setting up flower petals, drinks, and other special surprises according to your instructions. Be creative, not only in your flower and wine selection, but in all your actions. This is a precious time that couples often remember for the rest of their lives.
Reception Gifts: You are going to have your hands full with so much, don't burden yourself with your reception gifts as well! Make arrangements to have your gifts brought to the proper place after the reception. Remember your dependable Best Man—consider it his final good deed for the day.
Place your orders early for the Best Man and Groomsmen gifts. You can call us toll free at 800-625-8238 and we will gladly help you create your customized Gift Announcements for each of those much appreciated attendants. Take the time to compose the right words for your valued friends-they will certainly be remembered!
Traditionally, the rehearsal dinner is the responsibility of the Groom's family. You will be closely involved in planning this important event, so be sure to give your careful consideration and add your own personal touches to the occasion.
Beverages: Surprisingly, not all caterers provide drinks in their service—you just might be the one to delegate providing beer, wine and other beverages at the reception and/or rehearsal dinner in the event that your catering team will not be providing them.
Get all those checks for the officiators, photographers, caterer's fees, musicians or DJ's, etc. to your Best Man so he can deliver each to the proper party for you.
Confirm everything at least once!