Memorable Wedding Party & Groomsmen Gifts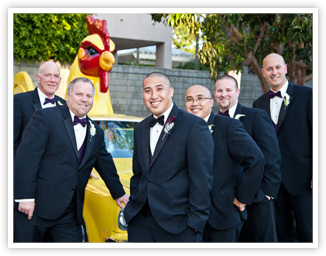 Tactfully selecting your wedding party members without hurting feelings can be more difficult than the decision to marry itself!
And just as you and your fiancée have put in careful consideration in your selections, your loyal Groomsmen, Best Man, Bridesmaids and Maid of Honor, all feel a special sense of responsibility to ensure your Wedding Day goes as wonderfully as you've envisioned. Honor those very special members of your wedding party, and don't forget your parents, for all their many efforts.
You Can Show Your Appreciation Over and Over Again
Gift memberships to any of our hand crafted microbrewed beer, premium cigar, gourmet chocolate, fresh cut flower, gourmet cheese, or international wine of the month clubs make outstanding, memorable gifts for your wedding party members. You'll be giving them opportunities to make their own wonderful memories, and occasions to reminisce about your special day together.
Personalize Your Gift Announcements
Fully customizable gift announcements can be easily emailed on a specific date, or printed at your leisure from our web site. Of course, we're here to help you—speak to us toll free at 1-800-625-8238 and we will assist you in setting up these details over the phone.
Budget Conscious Gift Solutions
Helping you remain within budget is very important to us! We offer a variety of options, and we're glad to offer creative suggestions when you order. For instance, you may want to consider paying your memberships monthly, as they are delivered—alleviating the brunt of paying all at once. Also, you can lengthen your gift term by shipping a six-month membership every other month—eaving the entire year to enjoy gifts—for the price of a six-month subscription. We have a bunch of ways to get those special people the unique gifts you want for them, and we're happy to work with you to find the best option for you.
Mixing Multiple Clubs into One Gift Membership
Certainly, Wedding Party members deserve thoughtful rewards for their role in your wedding (and your lives!). Show your fond appreciation with more than one type of club by combining them in a single membership. You might consider alternating between boutique wines and gourmet cheeses. Or, you could give a 6-month membership that alternates between fresh cut flowers, gourmet chocolates and international beers, with members receiving two months of each service! Flexible gift giving options allow you to send a number of imaginative combinations. In fact, we're proud to say that you are only limited by your own creativity!