Featured Chocolates - April 2017
Country:

United States

Notable Ingredients:

Pure Ecuadorian "Nacional" Chocolate, Michigan Cherries, Michigan Blueberries, Celtic Sea Salt, Candied Orange Peel, Hazelnut, Sweet Almond
Known as a "Tree to Bar" chocolate producer, Mindo Chocolate Makers is a very special and unusual chocolate company. They are involved in the entire chocolate making process, from hand selecting the cacao pods to fermentation, roasting, conching, and hand wrapping the final product. While the beans are crafted into gourmet chocolate at their base in Dexter, Michigan, the magic begins at their location in Mindo, Ecuador where ultra-rare Nacional cacao trees produce what are widely regarded as the finest cocoa beans in the world. Using only these heirloom beans and organic evaporated cane juice, Mindo crafts an incredibly flavorful chocolate which they then marry to Michigan cherries, tropical fruit, vanilla, Celtic sea salt, and more!
Read More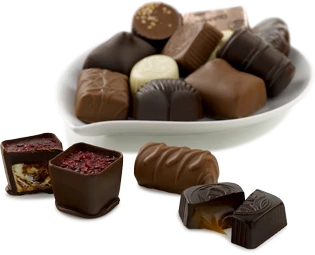 Meet The World's Best Chocolatiers And
Taste Their Works Of Art
Savor works of art from renowned chocolatiers, like Jean-François Bonnet's gourmet
barks and truffles, made with exotic fruits, spices, and fresh herbs.
DISCOVER OUR CLUB
Responsive Customer Service
Our friendly and knowledgeable customer service team will help you with any questions. You may also place orders over the phone.
Mon-Fri, 7am - 5pm Pacific
Sat-Sun, 8am - 12pm Pacific
Rated Customer Service
Assuring satisfaction to over 2,000,000 CUSTOMERS since 1994 has earned us an
rating from the BBB. A BBB Accredited business since 10/05/2005
View Our Profile
100% Satisfaction Guarantee
Our 100% satisfaction guarantee ensures that every item you purchase at The Gourmet Chocolate of the Month Club meets your high standards or we will replace it or refund your purchase.