Featured Chocolates - August 2015
Country:

United States

Notable Ingredients:

Cypress and Murray River sea salts, butter toffee, candied orange peels and ginger root, whole vanilla beans, fresh lavender flowers, organic Oregon chai, basil, and pink grapefruit.
The Secret Chocolatier uses fresh seasonal ingredients from regional farmers to create their unique flavors. There are no extracts or oils used. Everything is processed in a cream steeping method to bring out the peak flavors. As a rule, they have decided that the best can't be tampered with. The pursuit of longer shelf life, temperature stability, etc., requires the introduction of a lot of science, and that pushes the "natural" out. It's a difference that you can sense – that you can taste – so The Secret Chocolatier rejects such artificial approaches in favor of pure, all-natural ingredients and processes. They strive to stay as close to the source of all their ingredients as possible. We're proud to bring you a selection of their classics as well as some seasonal creations.
Read More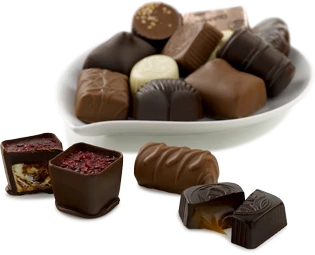 Meet The World's Best Chocolatiers And
Taste Their Works Of Art
Savor works of art from renowned chocolatiers, like Jean-François Bonnet's gourmet
barks and truffles, made with exotic fruits, spices, and fresh herbs.
DISCOVER OUR CLUB
Responsive Customer Service
Our friendly and knowledgeable customer service team will help you with any questions. You may also place orders over the phone.
Mon-Fri, 7am - 5pm Pacific
Sat-Sun, 8am - 12pm Pacific
Rated Customer Service
Assuring satisfaction to over 2,000,000 CUSTOMERS since 1994 has earned us an
rating from the BBB. A BBB Accredited business since 10/05/2005
View Our Profile
100% Satisfaction Guarantee
Our 100% satisfaction guarantee ensures that every item you purchase at The Gourmet Chocolate of the Month Club meets your high standards or we will replace it or refund your purchase.