Featured Chocolates - May 2013
Country:

United States

Notable Ingredients:

Chocolate Fudge, Pecans, Coffee Beans, Mixed Berry Fudge, Lemon Crème, Key Lime Fudge, Caramel, Vanilla Toffee, Pretzels
Based in Scottsdale, Arizona, Epiphany Chocolates is bringing passion, culture, and creativity into their handmade chocolates. Every handmade creation features flavored soft-centered fudges that are covered with a blanket of chocolate, each designed to take you and your taste buds on an adventure. Each shipment comes with a keepsake box that will feature flavors with names that have a sense of humor. Some examples will include: Sweet Carolime (Key Lime Fudge), Holly Woods (Cashew Sea Salt Caramel), Yum & Yang (Vanilla Toffee Caramel), Berry White (Mixed Berry Fudge), John Lemon (Lemon Crème Fudge), Grande Diva (Dark Chocolate Fudge), Party Girl (Cake Batter Fudge), Cocoa Chanel (Milk Chocolate Fudge) and many more.
Read More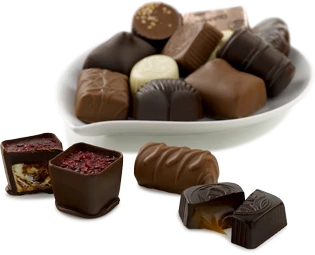 Meet The World's Best Chocolatiers And
Taste Their Works Of Art
Savor works of art from renowned chocolatiers, like Jean-François Bonnet's gourmet
barks and truffles, made with exotic fruits, spices, and fresh herbs.
DISCOVER OUR CLUB
Responsive Customer Service
Our friendly and knowledgeable customer service team will help you with any questions. You may also place orders over the phone.
Mon-Fri, 7am - 4pm Pacific
Rated Customer Service
Assuring satisfaction to over 1,000,000 CUSTOMERS since 1994 has earned us an
rating from the BBB. A BBB Accredited business since 10/05/2005
View Our Profile
100% Satisfaction Guarantee
Our 100% satisfaction guarantee ensures that every item you purchase at The Gourmet Chocolate of the Month Club meets your high standards or we will replace it or refund your purchase.