Featured Chocolates - May 2012
Country:

United States

Notable Ingredients:

Belgian Callebaut chocolate, white chocolate natural lemon juice ganache, vanilla-butterscotch white chocolate ganache, tangy strawberry puree and cream-infused white chocolate ganache, and maple-walnut fondant.
Charlie's Chocolates, a small California confectioner, makes the epitome of fresh, handmade chocolates. These gourmet gems are made by starting out using the worlds most popular and most flavorful Belgian Callebaut chocolate which is then blended to make the unique ganaches used in the variety of centers and then later to surround these delicious centers when being hand dipped. And then for those who love caramel, there's the jumbo caramel turtle-a generous caramel patty with chopped nuts, hand layered underneath and on top with a broad swirl of thick chocolate that runs down the sides from the top with oozing caramel and nuts peeking out. Charlie's fine tuned recipes, selection of top of the line gourmet ingredients, and the artful and striking added touches to the old fashioned chocolate is certainly something not to be missed.
Read More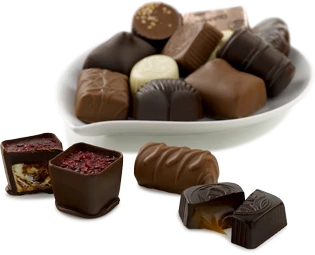 Meet The World's Best Chocolatiers And
Taste Their Works Of Art
Savor works of art from renowned chocolatiers, like Jean-François Bonnet's gourmet
barks and truffles, made with exotic fruits, spices, and fresh herbs.
DISCOVER OUR CLUB
Responsive Customer Service
Our friendly and knowledgeable customer service team will help you with any questions. You may also place orders over the phone.
Mon-Fri, 7am - 4pm Pacific
Rated Customer Service
Assuring satisfaction to over 1,000,000 CUSTOMERS since 1994 has earned us an
rating from the BBB. A BBB Accredited business since 10/05/2005
View Our Profile
100% Satisfaction Guarantee
Our 100% satisfaction guarantee ensures that every item you purchase at The Gourmet Chocolate of the Month Club meets your high standards or we will replace it or refund your purchase.