Featured Chocolates - January 2011
Country:

Belgium

Notable Ingredients:

Cointreau ganache filling, raspberry cream ganache, hazelnuts, champagne ganache, amaretto cream, soft mocha, pure almond marzipan, and dark chocolate flakes.
Nirvana Chocolates are individually handmade by award-winning chocolatiers. All of their chocolates are derived from rich African cocoa beans. Superb taste is achieved through a skillful contrast of textures and flavors. Add a heap of traditional artistry and a scoop of harmonious balance and you have a sinfully delicious result. So that freshness is assured, Nirvana Chocolates are always made in small batches. They are then delivered from their Bruges, Belgium, workshop to their customers' doors in days—again ensuring the ultimate in freshness. Nirvana Chocolates are a testament to the superiority of artisan chocolates over mass-produced "chocolate" products.
We have personally selected the Nirvana Belgian Chocolate Truffles for you because they represent the highest standards of artisan chocolate making. They please the eye and the palate. This wonderful assortment contains the rich taste of premium Belgian chocolate with all-natural flavors: raspberry, soft caramel, rich Amaretto, smooth mocha, champagne, and Cointreau. Each elegant Nirvana box includes an assortment of handmade milk, dark, or ivory truffles. With eight tantalizing varieties, you are about to indulge in a bravura celebration of the senses!
Read More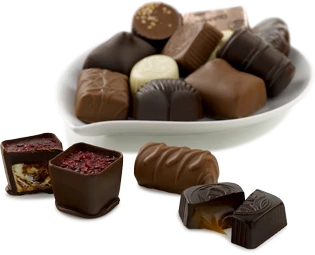 Meet The World's Best Chocolatiers And
Taste Their Works Of Art
Savor works of art from renowned chocolatiers, like Jean-François Bonnet's gourmet
barks and truffles, made with exotic fruits, spices, and fresh herbs.
DISCOVER OUR CLUB
Responsive Customer Service
Our friendly and knowledgeable customer service team will help you with any questions. You may also place orders over the phone.
Mon-Fri, 7am - 4pm Pacific
Rated Customer Service
Assuring satisfaction to over 1,000,000 CUSTOMERS since 1994 has earned us an
rating from the BBB. A BBB Accredited business since 10/05/2005
View Our Profile
100% Satisfaction Guarantee
Our 100% satisfaction guarantee ensures that every item you purchase at The Gourmet Chocolate of the Month Club meets your high standards or we will replace it or refund your purchase.