Featured Chocolates - August 2011
Country:

United States

Notable Ingredients:

Callebaut dark Belgian chocolate, Valrhona French chocolate, Michigan-grown dried cherries, Scharffen Berger cocoa powder, toasted walnuts, sweet butter from grass fed cows, pure vanilla, and unbleached and unbromated flour.
This month's chocolate assortment from Zingerman's bakery is sure to please the most discriminating palates. The inspiration for Zingerman's Chocolate Cherry Bread comes from "Black Forest Gateaux" which is a chocolate cake made with cherries and cream. Is it really bread? You bet it is. But it's not like any bread you've ever tasted! It's more like a mound of HUGE Dark Belgian chocolate chunks and flavor-packed Michigan grown, dried cherries surrounded by full flavored dark round bread. The key ingredient in Zingerman's Hot Cocoa Cake is a very special cocoa, made for us by Scharffen Berger, one of the leaders in America's new pursuit of fine chocolate. They've found a special, natural cocoa powder that is more complex and elegantly excellent than any we've ever tried. And finally, two layers of their Black Magic Brownie sandwich a layer of Dulce de Leche, the Argentine caramel cream. Topped with a blend of sugar and almonds cooked together into a toasty, dark caramel that's then ground into a sweetly crunchy praline powder, all we can say is…wow!
Read More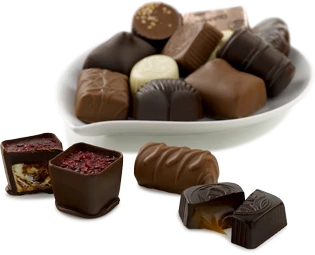 Meet The World's Best Chocolatiers And
Taste Their Works Of Art
Savor works of art from renowned chocolatiers, like Jean-François Bonnet's gourmet
barks and truffles, made with exotic fruits, spices, and fresh herbs.
DISCOVER OUR CLUB
Responsive Customer Service
Our friendly and knowledgeable customer service team will help you with any questions. You may also place orders over the phone.
Mon-Fri, 7am - 4pm Pacific
Rated Customer Service
Assuring satisfaction to over 1,000,000 CUSTOMERS since 1994 has earned us an
rating from the BBB. A BBB Accredited business since 10/05/2005
View Our Profile
100% Satisfaction Guarantee
Our 100% satisfaction guarantee ensures that every item you purchase at The Gourmet Chocolate of the Month Club meets your high standards or we will replace it or refund your purchase.