Featured Chocolates - June 2019
Country:

Belgium

Notable Ingredients:

Coffee, vanilla, and pistachio butter creams, rum, brandy, and orange ganaches, dark chocolate coffee praline, puffed rice and hazelnuts.
Leonidas is probably the largest gourmet chocolatier in Belgium and the favorite of most Belgian consumers, but its products are surprisingly hard to find in the USA. They make mouth-watering individual chocolates in creams, ganaches and pralines, and have been doing so for over 120 years! Air-freighted straight from Brussels and quite fresh, your box of assorted chocolates is comprised of fresh butter creams, cream liquors, caramels, ganaches and pralines. It will include a mix of dark and milk chocolate varieties, and very likely a few white chocolates. Each shipment sent to our members is sure to provide a palate-pleasing assortment of some of the finest Belgian chocolate in the world!
Read More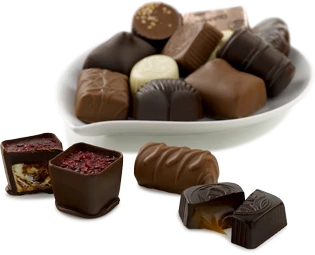 Meet The World's Best Chocolatiers And
Taste Their Works Of Art
Savor works of art from renowned chocolatiers, like Jean-François Bonnet's gourmet
barks and truffles, made with exotic fruits, spices, and fresh herbs.
DISCOVER OUR CLUB
Responsive Customer Service
Our friendly and knowledgeable customer service team will help you with any questions. You may also place orders over the phone.
Mon-Fri, 7am - 5pm Pacific
Sat-Sun, 8am - 12pm Pacific
Rated Customer Service
Assuring satisfaction to over 2,000,000 CUSTOMERS since 1994 has earned us an
rating from the BBB. A BBB Accredited business since 10/05/2005
View Our Profile
100% Satisfaction Guarantee
Our 100% satisfaction guarantee ensures that every item you purchase at The Gourmet Chocolate of the Month Club meets your high standards or we will replace it or refund your purchase.