Featured Chocolates - February 2014
Country:

United States

Notable Ingredients:

Pure Guittard chocolate, amaretto, almonds, coffee, Grand Marnier, lemons, peppermint, peanut butter, raspberries, chili pepper, and champagne, hazelnut, and white chocolate ganaches.
Unlike most American chocolate producers, Le Grand Confectionary truffles are created using time-honored European practices. Instead of filling their truffles primarily with sugar, Le Grand Confectionary uses ganache—creative combinations of cream, chocolate and butter. Their truffles are hand-decorated to become a feast for the eyes as well as the mouth. Created using the finest quality ingredients and artisanal small-batch manufacturing methods, truffles don't get any better than this!
Read More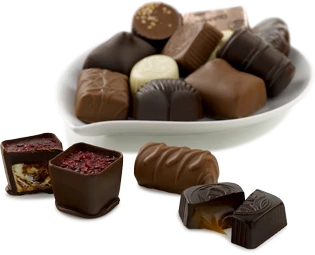 Meet The World's Best Chocolatiers And
Taste Their Works Of Art
Savor works of art from renowned chocolatiers, like Jean-François Bonnet's gourmet
barks and truffles, made with exotic fruits, spices, and fresh herbs.
DISCOVER OUR CLUB
Responsive Customer Service
Our friendly and knowledgeable customer service team will help you with any questions. You may also place orders over the phone.
Mon-Fri, 7am - 5pm Pacific
Sat-Sun, 8am - 12pm Pacific
Rated Customer Service
Assuring satisfaction to over 2,000,000 CUSTOMERS since 1994 has earned us an
rating from the BBB. A BBB Accredited business since 10/05/2005
View Our Profile
100% Satisfaction Guarantee
Our 100% satisfaction guarantee ensures that every item you purchase at The Gourmet Chocolate of the Month Club meets your high standards or we will replace it or refund your purchase.