Wedding Chocolate Gift Ideas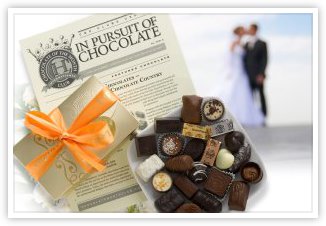 It used to be easy to find that memorable and distinctive wedding gift… but hey, that was when newlyweds got married in their twenties! The basic concept then was to help new couples get off to a good start by giving them the things they needed to start their new household together. These days, however, newlyweds often already have at least two of everything as they work to combine two separate households. Unfortunately, this presents their loyal gift giving friends with a dilemma when it comes time to find the right present. Fortunately, we can offer you a handy solution; your chance to give the ideal wedding present! And one that the Bride & Groom who've already got everything can actually use!
Setting the Stage for Continued Celebrations for New Couples!
The high-velocity society we live in affords everyone less time, so it's no surprise that it has become more difficult for couples to spend quality time together. This has led to a desire in many couples to find more interesting ways of creating meaningful, revitalizing experiences than by simply acquiring new things together. And you can help your favorite newlyweds with experience-based gifts that foster ongoing celebrations by giving them carefully selected gourmet chocolates, cheeses, wines, beers, beautiful floral arrangements, or even premium, hand-rolled cigars! For that unique gift they are certain to remember and adore, give a wedding gift that encourages romantic memories and heartfelt moments-one that they will eagerly look forward to and enthusiastically experience together every single month!
Renewing Their Vows Every Month
There's no doubt that long-lasting happy marriages require continued thoughtfulness, and most couples recognize this fact. And that is exactly why they get excited at the chance to give each other wedding gifts which help them to set aside time to renew their wedding vows-a gift that brings them together to enjoy and honor their marriage every month! Why not endeavor to celebrate your new union on a monthly basis by giving each other combination memberships to two or more clubs that you can both enjoy together!

*Remember, gift memberships can be delivered simultaneously or consecutively at the request of the Bride and/or Groom.