Featured Chocolates
Click the months below to learn about our current line-up of chocolates.
Please note that occasionally we are able to secure a truly special, hard to find chocolate on short notice and may substitute an item.
Featured Chocolates - January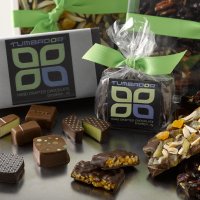 You are in for a treat this month! Tumbador Chocolates are crafted from the finest ingredients in the world by one of the top pastry chefs in N.Y., Jean-Francois Bonnet, and are sure to provide a gustatory adventure. They feature single origin, organic and fair trade chocolates, exotic fruits, spices, fresh herbs and sundry flavors. All Tumbador chocolates are made by hand each and every step. You'll receive a box of nine unique truffles, plus two different amazing barks created using ingredients from the south of France – one with milk chocolate, almonds, apricots and crystallized ginger, and the other a dark chocolate bark with pine nuts, figs and cinnamon. Your nine truffles will be a selection from among Chef Bonnet's fifteen signature pieces: Honey, Dulce de Leche, Peanut Butter & Jelly, Lemon, Coconut, Passion, Raspberry, Coffee Cardamom, Pear Black Tea, Lime, 66%, 55%, Green Tea, Chestnut, and Nougat. Read More »
Country:

United States

Notable Ingredients:

Ecuadoran & Venezuelan cacao, honey, black currant, coconut, grapefruit, coffee, cardamom, pineapple, hazelnut, lime, sesame, green tea, cashews, almonds, Hawaiian sea salt, cranberries, pecans, apricots, crisped rice.
Featured Chocolates - February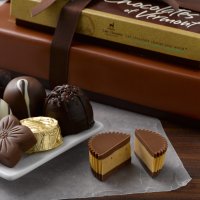 The Chocolates of Vermont line is Lake Champlain Chocolates' signature product line, and so it is with great pride that we bring you these sumptuous blends of chocolate that impress the palates of even the most particular gourmands. Handcrafted from the highest quality Belgian chocolate and the finest natural ingredients including local Vermont cream, sweet butter, maple syrup, honey, fruits, nuts, and natural flavoring, this chocolate represents the memorable moods and flavorings of Vermont. Read More »
Country:

United States

Notable Ingredients:

Rich Belgian Callebaut chocolate, sweet Vermont cream, 100% pure Vermont maple syrup, and raspberry, hazelnut, pistachio and champagne ganaches.
Featured Chocolates - March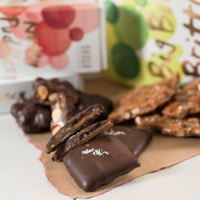 Based in Los Angeles, Droga Chocolates was started in 2007 by foodie Michelle Crochet. Inspired by her mother's approach to taking traditional items and giving them a creative twist, Michelle headed to the kitchen to do them same with confections by using premium, all natural ingredients. This month's selections are perfect examples of just that and include: Money on Honey – soft, chewy, caramel made from locally sourced wildflower honey draped with pure dark chocolate and a light sprinkle of French fleur de sel sea salt; Nutty Puddles – crunchy whole roasted California almonds covered in honey caramel and dipped in dark chocolate; Peanut Butter Bots – creamy peanut butter with a rice crunch enrobed in dark chocolate; and Big Bite Brittle – an award-winning brittle featuring peanuts which are combined with brown rice syrup and finished off with a light dusting of French fleur de sel sea salt. Read More »
Country:

United States

Notable Ingredients:

Wildfire honey, fleur de sel sea salt, California almonds, honey caramel
Featured Chocolates - April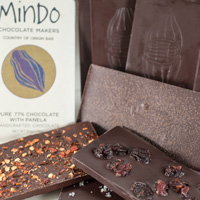 Based in Mindo, Ecuador, and Dexter, Michigan, Mindo Chocolate Makers focuses on the quality of the beans to make their exquisite chocolate bars. Known as 'bean-to-bar' chocolate makers, they do all of the chocolate making, from the cacao beans right out of the pod to the finished chocolate bars. In addition to making chocolate bars, they also make a variety of chocolate products from bakers' chocolate to hot chocolate sticks. This month, we have selected a variety of their chocolate bars including: Pure 87% Signature Chocolate Bar, 77% Macadamia Bar, Panela Chocolate Bar, Tropical Fruit Bar, 67% Sea Salt Dark Chocolate Bar, 77% Michigan Cherry Bar, Vanilla Rustic Bar, and Hot Pepper Rustic Chocolate Bar. Read More »
Country:

Ecuador

Notable Ingredients:

Pure Ecuadoran chocolate, Michigan cherries, panela, Celtic sea salt, Macadamia, hot peppers.
Featured Chocolates - May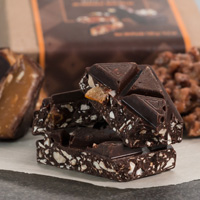 In 2011, Dufflet Small Indulgences and David's Fine Belgian Chocolates joined forces, and with an unrelenting focus on creative innovation, quality ingredients, award winning products, and impactful design they created Chocolate Signatures. Together, they have over 55 years of experience in the world of confections and pastries. Read More »
Country:

Canada

Notable Ingredients:

Cinnamon, pecans, candied orange peel, honey, nougat, pretzels, frites.
Featured Chocolates - June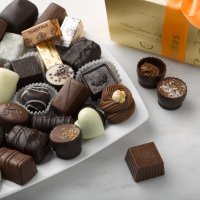 Leonidas is probably the largest gourmet chocolatier in Belgium and the favorite of most Belgian consumers, but its products are surprisingly hard to find in the USA. They make mouth-watering individual chocolates in creams, ganaches and pralines, and have been doing so for over 120 years! Air-freighted straight from Brussels and quite fresh, your box of assorted chocolates is comprised of fresh butter creams, cream liquors, caramels, ganaches and pralines. It will include a mix of dark and milk chocolate varieties, and very likely a few white chocolates. Each shipment sent to our members is sure to provide a palate-pleasing assortment of some of the finest Belgian chocolate in the world! Read More »
Country:

Belgium

Notable Ingredients:

Coffee, vanilla, and pistachio butter creams, rum, brandy, and orange ganaches, dark chocolate coffee praline, puffed rice and hazelnuts.
Featured Chocolates - July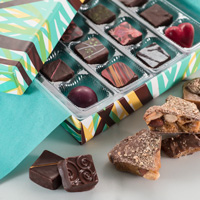 Since Mayana Chocolates' beginning in 2008, the husband and wife team of Chef Daniel and Tamara Herskovic has taken the chocolate world by storm. That year, they entered the first Chicago Luxury Chocolate Salon and won over seven awards including: Best in Salon, Most Gifted Chocolatier, Most Luxurious Chocolate Experience, and Best Dark Chocolate. They also have been featured in several publications, such as Food & Wine Magazine and Epicurious. Read More »
Country:

United States

Notable Ingredients:

Mint, pralines, pistachios, ancho chile, cinnamon, cayenne pepper, ginger, matcha green tea, yuzu, coconut, espresso
Featured Chocolates - August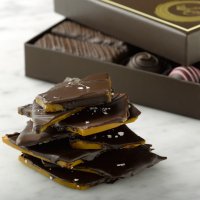 The Secret Chocolatier uses fresh seasonal ingredients from regional farmers to create their unique flavors. There are no extracts or oils used. Everything is processed in a cream steeping method to bring out the peak flavors. As a rule, they have decided that the best can't be tampered with. The pursuit of longer shelf life, temperature stability, etc., requires the introduction of a lot of science, and that pushes the "natural" out. It's a difference that you can sense – that you can taste – so The Secret Chocolatier rejects such artificial approaches in favor of pure, all-natural ingredients and processes. They strive to stay as close to the source of all their ingredients as possible. We're proud to bring you a selection of their classics as well as some seasonal creations. Read More »
Country:

United States

Notable Ingredients:

Cypress and Murray River sea salts, butter toffee, candied orange peels and ginger root, whole vanilla beans, fresh lavender flowers, organic Oregon chai, basil, and pink grapefruit.
Featured Chocolates - September
Each individual piece in our selected Gudrun collection was created around a central theme: the perfect balance between contrasts, whether they be contrasting tastes or textures. Each individual piece represents an interpretation of that theme. Gudrun chocolatiers travel the world to find the best ingredients for their gourmet products. The Gudrun couverture (couverture is very high quality chocolate with extra cocoa butter used for enrobing, molding and dipping) is made from specially selected cocoa beans from Sao Tome, an island nation in West Africa renowned for the quality and aromatic taste of its cocoa beans. It gives Gudrun chocolates their perfect snap, rich taste, and distinctive long finish in the mouth. Fillings for Gudrun's chocolates are always made from scratch using all-natural, fresh ingredients. Read More »
Country:

Belgium

Notable Ingredients:

Sao Tome cacao, cinnamon, nutmeg, coriander, allspice, crispy Italian hazelnut praline, passion fruit pulp, pink Himalayan salt, Arabica coffee, roasted hazelnut, tart raspberry compote, and vanilla bean infused caramel.
Featured Chocolates - October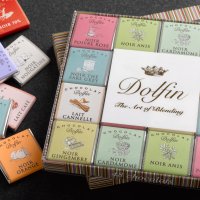 Michael and Jean-Francois Poncelet say that chocolate runs in the family, handed down by their father, a remarkable chocolatier subscribing to Belgian traditions. In 1989 they gave birth to Dolfin with a mission to draw on the original sources of chocolate, capturing it's strengths and authenticity. Dolfin chocolates are a far cry from flavored creams - carefully selected natural ingredients are mixed directly with grand cru and secret blends of chocolate beans. You can find these extraordinary gems in prestigious emporiums - Selfridges in London, La Grande Epicerie in Paris, the KDW in Berlin and the Sony Plaza in Tokyo. Our favorites are the Pastiche collection – rare chocolate combined with cocoa, Earl Grey tea, coffee, nougatine, pink peppercorn, ginger and much more. Read More »
Country:

Belgium

Notable Ingredients:

Nougatine, crystallized orange peel, coffee, ginger, aniseed, cardamom, cinnamon, nutmeg, cumin, and Earl Grey Tea.
Featured Chocolates - November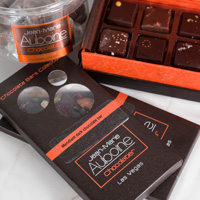 Jean-Marie Auboine Chocolatier
Located in Las Vegas, Nevada, Jean-Marie Auboine Chocolatier was started by master chocolatier Jean-Marie Auboine and business partner Melissa Coppel in 2012. With over 20 years of experience, Chef Auboine has worked in various Michelin Star rated restaurants, and he has also been named One of the Ten Best Chocolatiers in America for 2015 and Winner of American Chocolate Master in 2005, just to name a few. Entirely made from scratch, this month's selections include a Mendiant Bar – single origin dark chocolate with toasted hazelnuts, pistachios, almonds, dried blueberries, cranberries, and apricots; Cookies n Cream Bar – creamy white chocolate with Cocoa Puffs and Oreo Cookie pieces; Pecan Caramels; and their eight piece Signature Bonbon collection. Read More »
Country:

United States

Notable Ingredients:

Hazelnuts, pistachios, pecans, almonds, dried blueberries, dried cranberries, dried apricots.
Featured Chocolates - December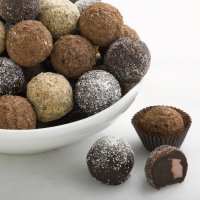 We feature 5 different unique flavors of Green Mountain Chocolates' hand-rolled truffles…Each with a split personality of its own as each offers two incredibly distinctive fillers, encased in either milk or dark chocolate! Ganache is used for half the filling and as the base of the truffle - a sumptuous mixture of equal parts chocolate and cream. It's one of those fabulous combinations where each of the ingredients is enhanced by the other. Ganache is a thick, extremely rich chocolate cream filling that is handmade by pouring hot cream over velvety smooth chocolate chunks and then whipping the mixture until the chocolate melts. Natural flavoring and fillings are then added to the other half of the truffle. Each tasty jewel is then finished with one of Green Mountains' own "signature" toppings and coveture. Read More »
Country:

United States

Notable Ingredients:

Fresh Vermont cream and sweet butter, amaretto, almond cream, hazelnut, white raspberry and dark raspberry ganaches.