Christmas Chocolate Gift Ideas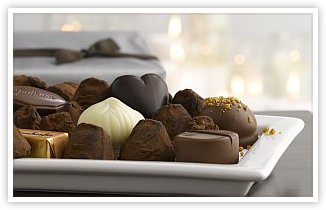 For you, your family, and your friends, the holidays are a cherished time meant to be spent enjoying one another's company, creating long-lasting memories and giving one another amazing gifts. Christmas only comes once a year, so why not make it special by giving your favorite chocolate lover exactly what they want: a membership to The Gourmet Chocolate of the Month Club™.
For over 20 years, The Gourmet Chocolate of the Month Club has worked tirelessly to provide high-quality artisanal chocolates to our customers throughout the year. By gifting a membership, you're not only ensuring that the recipient will get an amazing gift – you're guaranteeing them delicious chocolates delivered right to their door.
A Chocolate Club Membership is Memorable, Affordable, and Easy

Fast, Easy Ordering – Order your gift membership online or through our toll-free number. Save up to $25 with our promo codes.
No Holiday Rush – Avoid busy stores by ordering from home.
Custom Gift Announcements – Print or email a personal note to the recipient.
Customize Your Membership – Decide when and how often the recipient will receive their chocolate shipments.
Create a Unique Club – Combine your chocolates with cigars, wine, beer, flowers and cheese through our Design Your Own Club™ program.

Hear What Our Customers Have to Say!

"This month's selection of Green Mountain Chocolates is amazing. My daughter (who gave me the membership as a Christmas gift) advised me that they are rated as one of the top three chocolates in the country. What could be better than sitting in the massage chair and enjoying wonderful chocolates? Thanks for getting the shipment to me in time for holiday relaxation and indulgence."

Donna M., MD

Read More Testimonials

Learn More About The Gourmet Chocolate of the Month Club™
For more information about how we choose our delicious, small-batch chocolates, visit The Gourmet Chocolate of the Month Club™ selection process page.